After various peoples comments here and on TMP I still can't decide! So, here are a few mockups of the main options for double basing.
First up, 40x40mm with the odd base with three figures in the rear rank, and space for casualty figures. Figures are still edged to the back of the base in the 40×30 base area to maintain the compact look. Extra space at front will be for scenics/casualties.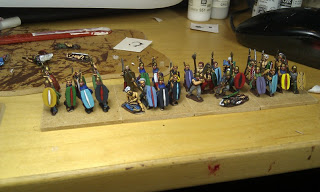 And now some on 40x30mm
This also gives me chance to show a few of the Gauls that Mark at
Conflict in Colour
painted for me. A long saga of figures long overdue but I'm really happy with them. The casualty figures are mine though. Painted to try and match his style, as is the guy in the last two photos holding the severed head!
The 40×30 doesn't really give much space for extras unless you start leaving figures off. Anyway, more pondering in the offing.
Please follow and like us: