Left for Blackpool Thursday lunchtime and my first proper ASL for nearly two years. I had lift from Olli Gray who on his way down from Cupar had picked up Dave Blackwood from Fife and John Martin from Edinburgh. More importantly he had hired a Ford Galaxy which had ample leg room in the back and huge storage space for the mass of ASL gear the four of us were taking! I now want one of these as it will hopefully stop my daughter continually kicking the back of my seat when I'm driving!
An entertaining but uneventful journey saw us arrive at 4.30pm. It was not in the usual Hotel Skye this year as that was closed due to issues with Fire Regulations so we were next door in the Colwyn Hotel. Same owner and staff, better hotel but still not as good as the one in Bournemouth.
There were already a good few people there, with games already underway and the start of what was in some ways the centerpiece of the weekend – Neil, Ulric, Mike and Sean playing First Bid from Valor of the Guards. A massive scenario which shows ASL at it's most epic!
Neil and Mike plan the Russian Defence
Shaun and Ulric launch the German attack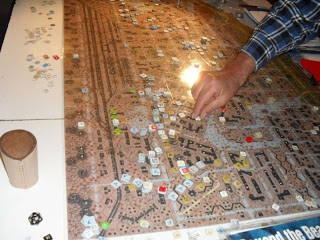 Germans push into the city and target strongpoints
The left flank progresses well
After settling in Dave, who I had travelled down with, suggested having a game so we set up La Herrison. An action from 1940 with the Germans pushing the French back through a built up area with the aim of capturing 13 of the 15 multi-location buildings on board 23 . As my first game in a long time I was a little rusty with the rules but managed to push forward quite aggressively and after what looked like a stalled attack a few good rolls saw the Germans pushing forward. As it was a friendly game the last move was a bit of a team effort between me and Dave that established a German victory! It's a good scenario but quite hard on the Germans. As it was also one of the tournament scenarios for the next day I'd be interested in seeing the results from those playing.
So that was the end of day one. A win for me but the Russians ponder how to stop the German onslaught!