I've picked up a few books from Shilka Publishing in the past: THE BEAR MARCHES WEST: 12 SCENARIOS FOR 1980S NATO VS WARSAW PACT WARGAMES provided some interesting scenarios for the Cold War turning hot; THE SOTCW WORLD WAR I COMPENDIUM contains a wealth of resources gleaned from the pages of the SOTCW Journal. And as part of my various Cold War gaming activities I picked up RED STEEL: SOVIET TANKS AND COMBAT VEHICLES OF THE COLD WAR as a nice little summary of Soviet tanks and AFVs. This book is no longer available and its replacement(s) is what leads to this post.
Quite a few weeks ago I entered a little competition announced by Russell Phillips of Shilka to win a copy of his latest books covering the same topic of Warsaw Pact combat vehicles. The single Red Steel volume is to be replaced by up to four new volumes covering the assorted combat vehicles of the Warsaw Pact in more depth. The first volume was already available: TANKS AND COMBAT VEHICLES OF THE WARSAW PACT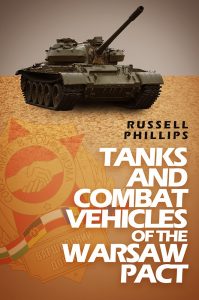 And the next volume was almost ready for release: COMBAT ENGINEERING EQUIPMENT OF THE WARSAW PACT
The competition was to win a copy of the first Volume and an early release copy of the new one (it is due for publication on 7th November). I was lucky enough to win the competition and a week later Russell sent me the two books. I must apologise for the delay in posting about this as it has been close to six weeks! However, having started to return to my Cold War gaming I've finally been dipping into these books so a little review is in order.
Print quality is good. They are softback, well bound, and the 'feel' of the covers is of good quality. The bulk of the book is printed on what I would describe as paperback type paper but is clear and well printed and as all photos are black and white is fine for the purpose. Vol. 1 covers the following vehicles:
Tanks
T-34/85
T-44
IS-3
IS-10/T-10
PT-76
T-54
T-55
T-62
T-64
T-72
T-80
TR-77-580 (Romania)
TR-85 (Romania)
Infantry Fighting Vehicles
BMP-1
BMP-2
BMP-3
BMD-1
BMD-2
BMD-3
BMP-23 (Bulgaria)
MLI-84 (Romania)
Armoured Personnel Carriers
BTR-40
BTR-152
BTR-50P
BTR-60P
BTR-70
BTR-80
BTR-D
MT-LB
OT-810 (Czechoslovakia)
OT-62 (Czechoslovakia/Poland)
OT-64/SKOT (Czechoslovakia/Poland)
PSZH-IV (Hungary)
TAB-71 (Romania)
TAB-77 (Romania)
MLVM Mountaineers Combat Vehicle (Romania)
Anti-Tank Vehicles
SU-100
SU-122-54
ASU-57
ASU-85
2P26
2P27
2P32
9P110
IT-1
9P124
9P122
9P148
9P149
Reconnaissance Vehicles
BRDM-1
BRDM-2
BRM
BRM-23 (Bulgaria)
FÚG (Hungary)
Self-Propelled Anti-Aircraft Weapons
BTR-40A & BTR-152A
ZSU-57-2
ZSU-23-4 Shilka
2S6
SA-4 Ganef
SA-6 Gainful
SA-8 Gecko
SA-9 Gaskin
SA-10 Grumble
SA-11 Gadfly
SA-12 Gladiator
SA-13 Gopher
BTR-ZD
M53/59 (Czechoslovakia)
Self-Propelled Guns, Howitzers, and Mortars
SU-76
ISU-122
ISU-152
2S1 Gvozdika
2S3 Akatsiya
2S4 Tyulpan
2S5 Giatsint-S
2S7 Pion
2S9 Nona
2S19 Msta
vzor 77 Dana (Czechoslovakia)
Multiple Rocket Launchers
BM-24
BMD-20
BM-14
BM-25
BM-21 Grad
BM-27 Uragan
BM-30 Smerch
BM 9A51 Prima
RM-51 (Czechoslovakia)
RM-70 (Czechoslovakia)
Tactical Ballistic Missiles
FROG-1
FROG-2
FROG-3/4/5
FROG-7
SS-1 Scud
SS-12 Scaleboard
SS-21 Scarab
SS-23 Spider
and Vol. 2 covers:
River Crossing
Vehicle-Launched Bridges
MTU-54
MT-34 (Czechoslovakia)
MTU-20
BLG-60 (Poland/DDR)
MT-55A (Czechoslovakia)
MTU-72
KMM
TMM
AM-50 (Czechoslovakia)
SMT-1 (Poland)
Pontoon Bridges
LPP
TMP
TPP
PMP
PVD-20
TZI
PPS
DPP-40
LPB (DDR)
PP-64 (Poland)
LMS (Czechoslovakia)
SMS (Czechoslovakia)
PR-60 (Romania)
Amphibians and Ferries
K-61
GSP
PTS
PMM-2
PTS-2
Bridging Boats
BMK-70 and BMK-90
BMK-130
BMK-150
BMK-T
BB-120 (DDR)
KH-200 (Poland)
Mo-108, Mo-111, Mo-930 (Czechoslovakia)
Line of Communication Bridges
PVM, LVM, TVM Suspension Bridges
MARM
SARM
BARM
NZhM-56
RMM-4
REM-500
SP-19 Self-Propelled Pontoon Bridge
TMS (Czechoslovakia)
MS-1 (Czechoslovakia)
DMS-65 (Poland)
ESB-16 (DDR)
SBG-66 (DDR)
SB-30 and SB-45 (DDR)
Mine Warfare
Minelaying
Helicopter Minelaying Equipment
GMZ and GMZ-2
GMZ-3
PMR-2, PMR-3, and PMZ-4
UMZ
MLG-60 (DDR)
Mine Detection
VIM-625 and VIM-695 Portable Mine Detectors
VIM-203M Metallic Mine Detector
UMIV-1 Portable Mine Detector
IMP Portable Mine Detector
DIM Vehicle-Mounted Mine Detector
VISF Model 1946 Portable Mine Detector (Bulgaria)
M62 Portable Mine Detector (Bulgaria)
M-10 and M-11 Portable Mine Detectors (Czechoslovakia)
MSG 64 Portable Mine Detector (DDR)
Mine Clearance
PT-54, PT-54M, and PT-55 Mine Rollers
KMT-4 Mine Plough
KMT-5 Mine Plough and Rollers
KMT-6 Mine Plough
KMT-7 Mine Plough and Rollers
KMT-8 Mine Plough
KMT-10 Mine Plough
MTK Armoured Mine-Clearing Vehicle
MTK-2 Armoured Mine-Clearing Vehicle
ITB-2, SPZ-2, and SPZ-4
BDT
UZ-1 and UZ-2 Bangalore Torpedoes
PW-LWD (Poland)
Tank-Mounted Rollers and Ploughs (Czechoslovakia)
Trailer-based system (Czechoslovakia)
Armoured Engineer Vehicles
IMR Combat Engineer Vehicle
IMR-2 Combat Engineer Vehicle
IRM Engineer Reconnaissance Vehicle
ADZM Engineer Vehicle
MT-LB Engineer Vehicles
Recovery and Repair Vehicles
T-34 ARVs
IS-T
BTS-1
BTS-2
BTS-3
T-54 (A) and T-54 (B) (DDR)
BREM-64
BREM-1
BREM-2
BREhM-D
BTR-50PK(B)
MTP-1 (Bulgaria)
AD-090 Wheeled Recovery Vehicle (Czechoslovakia)
VT-34 (Czechoslovakia)
VT-55A (Czechoslovakia)
VT-72B (Czechoslovakia)
VPV (Czechoslovakia)
SU-76 Armoured Workshop Vehicle (DDR)
WPT-TOPAS (Poland)
WZT-1 (Poland)
WZT-2 (Poland)
WZT-3 (Poland)
Earth-Moving Equipment
BAT Digger
BAT-2 Digger
BTM and BTM-TMG Digger and Ditcher
PZM and PZM-2 Digger and Ditcher
MDK-2 and MDK-3 Excavator
E-305V Single-Bucket Crane Shovel
DOK Dozer (Czechoslovakia)
So there is a lot covered in both volumes! Each entry gives a good summary of the service of the vehicle, main variants, stats and most entries include a photo. I have other books on the same subject matter. Lots of Ospreys as well. Some go into extensive detail, some less so but these two volumes give a really good overview of the subject with lots of quite obscure vehicles getting an entry. I've dipped into them many times over the last few weeks. Lots of info and handy to have on the desk as they are not bulky books. Yes, there are more photos on the internet. Yes, you can find more detail on the internet. But for a good handy overview I would recommend them. And if you buy the paper copy then you can also download a copy of the eBook as well.
The following two volumes are currently being worked on. The first, Artillery, will encompass mortars, RCLs, multiple rocket launchers, etc. After that it'll probably be anti-aircraft and anti-tank weapons. There will be some crossover with earlier books, but altogether they will provide a tidy reference. Recommended.