Having completed the Shiny Toy soldier game and coming away enthused to buy more, and with a large 15mm AWI game planned for next Ayton, and with the Vikings to start for my Dark Age project…it seemed sensible to dive in and paint some 15mm Macedonian Pikemen! Now, to be fair, I've had this little batch sat in my workbench for about three years. I got a little box of Old Glory figures from Iain Burt (Essex Boy) probably a year before that. The little batch of 16 figures with lovely little pikes fitted and Dremel'd by Iain have been frequently dusted but never work on in all that time. Someone over on the LAW forum mentioned pikemen (possibly in response to a comment about the large pile I have sat in a box from the second Forged in Battle Kickstarter!) and that clearly planted the seed… So on my return from Fram that was what was dusted off and started.
I also took delivery of a little lightbox from China (recommended by Jeremy on LAW) and for just over £5 delivered it was worth a look…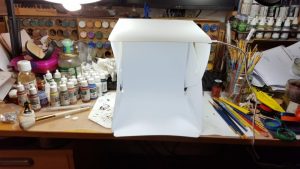 It's a little basic with a strip of LEDs on the top front edge. I'm not sure if that edge is meant to fold in more to focus the light on the interior but it seems bright enough. It just plugs in to the USB port on my PC. So I thought I'd give it a go.
It seems OK. Pictures cropped to cut out the back corners of the box. And it's clearly not big enough for a whole unit of 28mm figures! But for small stuff and odd figures it does the job. It also comes with a black backdrop which I've yet to try.
So there we have the first little block of pike. I got another lot of the same figure and then it will be time to move onto the Forged in Battle stuff. But I need Iain to do me some more of the nice pikes!
Oh… and he's already christened them Smurfs! Git…
A