My main desk lamp on the painting desk has been struggling for a while. I've had it years but the fitting inside the shade has snapped off, the whole lamp/shade part broke many years ago and has to be wrapped around the arm to hold in place, and the springs and levers are all broken and need wedging in place with bits of wood to stop them collapsing… All in all, like me, it's a bit knackered…
So when one of my not cheap super day light bulbs went I started looking at options. I'd looked at various blogs and forums for advice on lamps but the really good options all seemed a bit expensive. Then I stumbled on a video (https://www.youtube.com/watch?v=hNMnBv4auvk) about using cheap angle poise lamps from IKEA with decent bulbs in. I had the bulbs (had already got a replacement one one I decided costs looked to make a new lamp prohibitive) so yesterday it was off to IKEA!
All I wanted was two lamps. £9 each. But as family were in tow we also came out with 4 cushions, 3 cushion covers, tea towels, two mats and a bulb… Such is IKEA…
So now we have the new solution! Two lamps clamped to the desk and giving good light and easy to move out of the way to see the monitors.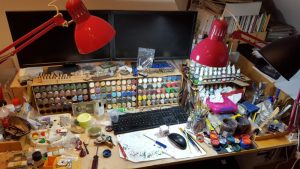 OK. So they no longer do them in black…and the yellow ones were out of stock…so they only had pink… Still, it's not like anyone's going to see them and take the piss is it?… Oh…hang on…
A