Although I'm trying to keep expenditure down at the moment I've picked up a few odds and ends off eBay and via Boardgamegeek. Best thing for my Cold War Commander Soviets was:
I'd posted on TMP asking for info on this book but not got a response but then saw a good copy on eBay and decided to take the plunge! It's an excellent book covering pretty well any vehicle I could think of which a black and white photo of them as well as useful text. There are some excellent shots of command vehicles 'in action' with all aerials etc. raised which have given me ideas for my HQ stands. There are also some excellent shots of engineering and bridging vehicles in action and some good schematics of BMPs. All in all an excellent purchase.
I've had an eye on James Rouch's The Zone series for a while since it got recommended following my posts re CWC reading on TMP. I'd held off as some of the volumes are still a bit pricey while others can be got for c.£1 on Amazon. Although this latter seems a good deal it falls foul of the Amazon dealer £2.75 flat postage PER ITEM! And dealers won't (can't?) combine postage. So I could get four volumes for £4 but it would cost £11 shipping! Bloody extortionate! Anyway, courtesy of eBay I managed to get the first five volumes for £9.15 including shipping. Quite happy about that. Not sure I'll be able to get the other five volumes as they seem a little pricier. They are available as PDFs but I don't facny reading on screen.
I'm still looking for a copy of Robert Forrest-Webb's Chieftains though. Missed one on eBay and still hold out hope of finding one in a charity shop…
Finally a few boardgame acquisitions. Although I'm not playing ASL at the moment I've had High Ground 2 from Bounding Fire Productions on pre-order for a while:
This reproduces the two excellent maps from High Ground 1 (shown left below) and adds two more and an overlay plus additional scenarios, but this time all in the new Starter Kit style maps.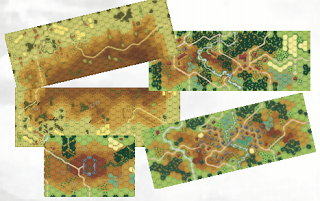 The first pack was excellent with some great scenarios and one day I'll get chance to play them again!
MMP have also announced that the great Map Bundle (all ASL maps in new style) is imminent. I've very tempted by this but it is a tad pricey and I intend to buy each of the new re-done modules as they come out anyway, so will get most of the new maps then. So, at the moment, something I can't justify…
Other boardgames en route are the Strategy and Tactics mags containing BAOR, Donau Front, Fifth Corps and Berlin'85. The latter is standalone but the former, when combined with Hof Gap, form the Central Front series and apparently link together. Intention is that they provide a 'campaign' structure playing Cold War Commander.
That's all for now. I'll update with links in a bit but for now I have a two year old with a nappy that needs changing!