For the upcoming WD3 Imagi-Nation game I am painting up my 'Savage Swans' (see earlier posts). Although I've got twelve figures ready to go I had a chance to escape the kids for an hour this afternoon and decided to just finish one figure to see if I was happy with the look. The figure is an RSM Austrian Musketeer: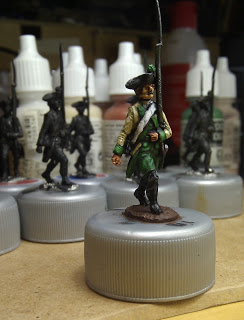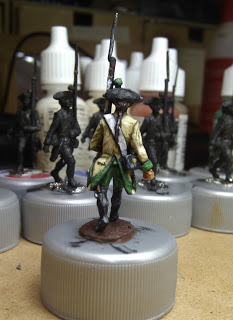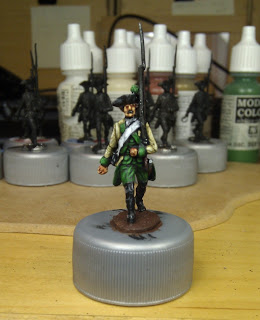 Overall I'm quite happy with it. Main revelation for me was that I've decided I just cannot paint eyes! Although I managed them on some WW2 28mm I did a while back, the casting is much more prominent on Black Tree Design, the RSM being more in proportion. I tried. But my eyes just can't cope with their eyes!
I've gone with green for the turnbacks, smalls and trousers. I MAY vary each company for one of those but I'm not sure yet. All paints are Vallejo, bar the main green. This is an old Ral Partha green from their AD&D range. I have about a third of a pot left. It is my favourite green! I haven't found one to match it yet and I'm just hoping there's enough to do all the Swans!
Anyway, a start has been made!