After a couple of rough nights with the kids it was a struggle to get going tonight. Wasn't helped by having been to a friends 40th in the afternoon and having a few beers! Either way, cracked on and finished the straps, touched up all the black areas that needed it, and highlighted the leggings:
straps: Vallejo Sky Grey with white main coat
leggings: highlight with Vallejo Dark Sea Grey
Here's the pics: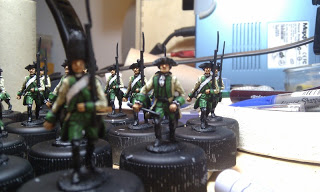 I'm now in a bit of a dilemma. Although there are quite a few fiddly bits left to do the officers, drummers and ensigns are pretty close to done. I even highlighted the tricorns on these while I had the dark grey out. Now I'm tempted to pull these seven figures out and finish them off entirely before moving on to the main batch. But I'm worried this will break the flow of finishing The Forty! 🙂
And I still don't know for sure how I'm going to base the officers etc.!