Bit of a quiet night. Kids in bed. Wife in Manchester. Had thought of heading to attic but by the time kids were settled, I'd eaten and then tidied up, it's really too late. And as I have to do battle with the kids in the morning I'm intending to head to bed.
So, purpose of update. Well, I've added three red boxes to the 'Plan' on the right! Although I may still dabble with additions, the core are done. Been reading up on Yom Kippur so that will be seeing some blog time over the next few weeks.
I've also looked into sabot bases for the 6mm SF infantry. Partly to make movement easier, partly to facilitate use in other rules systems. The ever helpful Martin at Warbases put together a sample.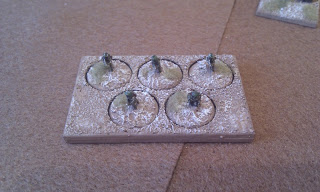 These fit the tiddlywink counter bases I've used fine. I do have some 15mm MDF rounds as well but the tiddlywinks with the stuck on steel strip are a little heavier and maybe more stable. The sabot is done with 2 x 2mm MDF which does make them a little think for 6mm. Martin did my Grande Armee bases using 1mm MDF that I sourced so I may ask him if he can do these with that if I send him a sheet. Either way, excellent service again from Warbases.
Inspired by Angelbarracks (again!) I have just ordered some of the Armstrong Models stowage packs to add to various 6mm vehicles. It really seems to 'add' to a model so my Syrians/Israelis may start looking 'well travelled'!
And yet again, I put off the September Wargaming Neutral summary. Just too scared to tally up the figures!
More to follow…