Today was Partizan! Usually the only show each year where I get to use the car and drive down and have the day to myself! Helped this year as we temporarily have two cars! Picked up Ian at 7.30 and set off in the mist down the A1. Usual stop off for caffeine at Wetherby Services and then on to the show. Yet again this year we got lost on leaving the A1! EVERYTIME I read the directions on the show website I take "From A1 North" to mean leaving the A1 coming FROM the North not heading that way! And so every year I get to the top of the slip road and turn RIGHT!!! Please… change the text to read "From A1 Northbound/Southbound". I know it's probably only me but please please change it? 🙂
Parked on the grass as normal and headed in. The free figure is a nicely sculpted HM Princess Elizabeth – ATS uniform 1945. This will unfortunately join all the other show figures I ever get in my random unpainted pile! Nice, but of no use to me. If anyone wants mine drop me an email..
The show seemed quieter this year. Arrived at the same time as last year to a much shorter queue. This helped in getting round and taking pictures but I hope didn't impact on takings. There was the usual good range of traders. I only really wanted to see Baccus and Caliver and was quite good in resisting other temptations.
Demo Games
I always like the selection of games at Partizan. The main hall can be a bit of a nightmare for taking photos as the light is not good, and the sunlight shining across some tables played havoc with exposure! I was also against the clock as use of my phone SatNav to correct the driving error hammered the battery! I did miss photos of several games. A couple due to light, and one, the big WW2 game next to Caliver because I was sure I'd seen the game at York and the battery was near gone! So apologies if your game isn't in the gallery. It wasn't personal!
My personal highlights were the Ottoman game put on by Derby Wargames Society. Some excellently painted figures.
The Redcar Rebels 40mm C19th game had a nice feel to it.
And it was great to see some of Tony Bath's flats on display on the Society of Ancients stand.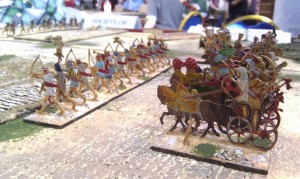 I didn't get chance to talk to the people but the Great War Miniatures WW1 game looked very good.
I had specifically gone to chat to LT running the WW2 I Ain't Been Shot Mum game but only managed a couple of usable photos as the light meant most ended up blurred. The faux fur terrain looked good as well and not as luminous as some others on display!
Another highlight was the Westbury Wargames (I hope!) Dark Age game. Very well done figures and banners. This is a period I'd love to do but just can't see it happening for a long long time!
The Perry's et al had a nice looking Wars of the Roses game with some nice little 'extras'. I'm not a big fan of the period but the game looked good.
There's a full set of pics in the gallery section here and hopefully I've got the details correct.
It was also nice to see Wargames, Soldiers and Strategy putting on a game. The Wars of the Roses naval game had some nice models and seemed very popular. I had hoped to have a chat with either Jasper or Guy but only managed a brief chat with Guy as he took lots of good photos and I rushed mine with my phone!
I had a good chat with Peter at Baccus and this was where most of my money went on assorted SYW types for my Maurice ImagiNation stuff. Pete was singing the praises of the whole 60x30mm basing having seen my last post re this! I CAN see his point but I still can't decide! In the same area was Mike Salway running the 6mm painting clinic. I had a good chat about 6mm painting techniques, different undercoat colours, different washes and some interesting ideas on basing. He's a very nice and helpful chap! And he sculpts some mean Ottomans as well!
Final purchases were the other two Partizan Press Uniforms of the Seven Years War volumes I needed. Well, I say 'needed'! I'm just looking for ideas for uniforms! Nice to have a chat with Dave at Caliver though. Always a pleasure. I also grabbed some odds and ends of Vallejo. I wanted to try the Deck Tan that some are using in place of White, and I needed more Black Shade and more Red Leather. I had made a list of others I needed….but left it at home!
Just before I left I spotted someone selling the Miniature Paints range. I use the Chestnut Brown with a black wash for a lot of my 28mm horses and my jar runneth dry so a good purchase!
In conclusion
It was great to meet and chat with GavinP, AndyH, LT, RtL and Eccles – fine denizens of WD3! I missed Phil Hendry. I may have seen him but I'm not sure! I also saw Andrew Hubback of Miniature Wargames around and had hoped to chat with him given my recent 'issues' with the magazine. But by the time I'd finished my photo rounds I think he'd gone! Next show…
It was a fun show. Sociable and friendly as ever and I saw who I wanted and got what I wanted! I hope the numbers weren't down but I'm sure someone can confirm. Roll on next year!
Post Script: Other Games…
In my rush (why was I rushing?) to get this post up last night I realised I'd missed a few things. The Vinland game by The Bunker had some rather impressive terrain and nice figures and deserves a mention!
There was also apparently a Muskets and Tomahawks participation/demo game which I totally missed! Annoyed about that as it was something I'd seen was on and intended to check out! I think this reflects the social nature of Partizan. I seemed to spend most of my time chatting to friends and traders! Next time you see him, go and ask the guy on Tumbling Dice about scales! 😉