Ever since chatting with Dr Mike at the Derby show I've been planning on getting a new paint rack. The old one I had was just not up to the job. You can read the construction report here and although useful for the larger 'odd' paints it was really no use for the large pile of Vallejo paints I now have.
So after seeing the good Doctor's rack (so to speak!) I finally went for one of these from Progressive Engineering Solutions.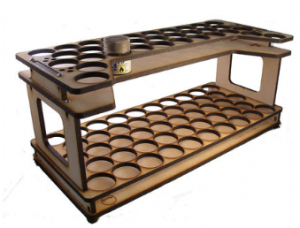 This will take 89 Vallejo type pots which to be honest should be all I need! At £35 +£5 shipping they are not cheap. Mine arrived day after posting which given it was the Friday before Christmas was bloody amazing! I had a couple of minor issues assembling. Instructions are petty clear and the quality of the laser cutting is spot on. I'd have liked an extra layer of bubble wrap just to protect the corners a little more but no real damage done. I wanted to keep the 'clean' cut side facing the viewer on all sides so inserted the side as appropriate. There does, to me at least, seem to be a 'smarter' side to laser cut MDF. Anyway, duly constructed it looked a little skewed. I assumed this would correct itself when everything was tightened at the end. Bit no… still skewed. So I carefully took the WHOLE thing apart again and reversed one side panel and this pulled everything square again. So check it's square when you make yours! Also, when you tighten it all it compressed the MDF where the little nuts slot in and when you come to reassemble it they don't slot in as easily! Fiddly but doable. But best not done late at night after a few drinks!
Would I recommend them? Yes. They are solid. Neat. and I'm sure if you used a variety of paints you could get each layer with a different hole size.
The main reason I wanted this is this:
Now this is after I've removed all the 'in progress' stuff! I also use the desk for remote working so there is little space for typing and mouse. Before anyone goes for Gold in the Olympic Conclusion Jumping, the pile of tissues to the right are from a recent delivery of figures!
Now this is what the 'in progress' pile looks like: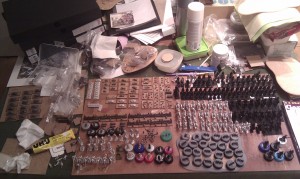 From left to right, top to bottom:
GHQ T34/85s for CWC Syrians
GHQ British for North Africa
Stadden, Holger Eriksson for Ayton 20?? – well, not sure yet!
6mm ImagiNation (center)
Stadden (bottom left)
20mm plastic WW2 (don't ask)
6mm ImagiNation (front right on grey tops)
More Holger Eriksson
This lot excludes all the CWC Modern stuff I have on the go. And the 15mm Dux B!
So, I have way too much on the go and I still need to buy and paint stuff for Ayton next May! So the broad plan of action is:
sort out the table
sort out the 'in progress' pile to something more manageable!
make a plan for 2013
The latter is going to be the hard bit. As I only managed two games in 2012 I an going to aim for six, yes SIX!!! in 2013. And the plan is to play one game in each of six 'periods' to encourage me to actually complete enough of one period/scale to play a game!
More details on this soon as I make up my mind and try and plot a 'sensible' painting schedule!
I may even resurrect the old Wargaming Neutral plan again!
Laters…