My foray into recreating my Altefritzenburg C18th ImagiNation in the C19th for this year's Ayton game continues, this time with the Jaegers. These are the 1st Battalion of the Altefritzenburg Jaeger Brigade.  The figures are Spencer Smith Classic  Franco-Prussian War Prussian Jaeger. They are in the traditional Altefritzenburg green and red. I kept the jackets simple, partly to aid painting and partly because not all the detail is uniformly cast on all poses. The figures are nice and the arms (one on each, either left or right) fit together well with minimal work. Just super glue them and then run a little liquid super glue over the join to seal and fill the gap.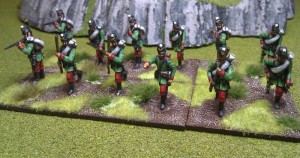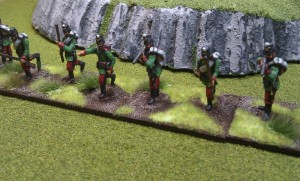 Rather than base them singly I went for 50x40mm two to a base. 50mm is my standard frontage for my 28mm and I figured skirmishers based in pairs works well. I may consider re-basing some of my other stuff…
More to come soon. Only four weeks to go 'til the game!!!!