And so the first show of the North was on us again and the trip down to York duly booked. Having had hassles with buses to get to the early train last year I thought I'd take no chances on this one so booked a taxi for 7.30. Alarm was set got 6.50. Slept right through it! Luckily my daughter came in at 7.15 and woke us up.. 15 minutes. Up. Showered. Dressed. Out of door!
Uneventful trip down other than trying not to fall asleep on the train, and managed to get a better bus this year (No.11) that drops you at the Racecourse entrance rather than waaay down the road (the No. 4!).
Arriving at near 10am there didn't seem to be a queue but that seemed to belie the number of people in there as the morning part of the show seemed VERY busy. Which is a good thing! I'd arranged to meet various people from assorted fora at the event  (Peeler, Alex T, Darklord, Marshallney, Tim W, Norman D Landings) but was pleased to bump into Levied Troop, now a Gentleman of Leisure having recently taken early retirement.
There was the usual good selection of well presented games. The Leicester Phat Cats Arab Israeli game has been at a couple of shows now but is still an impressive setup: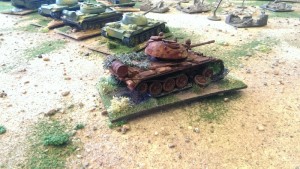 WWW1 inevitably had a couple of very big games with some great figures on display such as this from North Hull Wargames(?):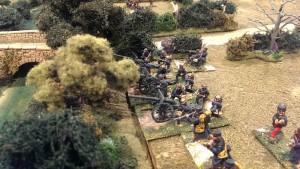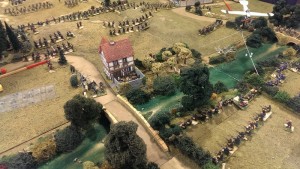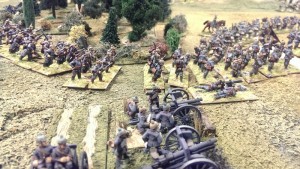 Although I only seem to have pics of one game!
An ECW game had some rather impressive scenery: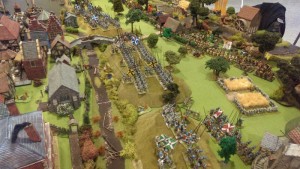 And the 20mm Martians game was excellent. Some great use of scenic items and the Martians themselves were suitably ominous!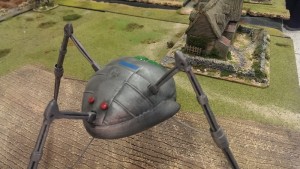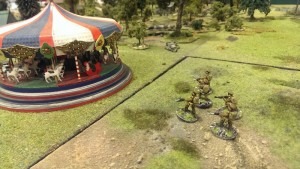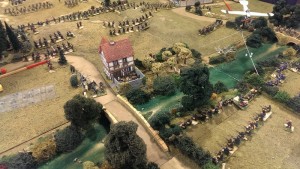 And the final one that grabbed me was the Wake Island game: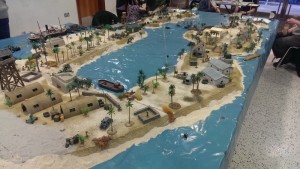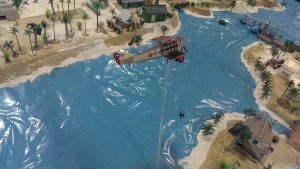 There were plenty of other games on show (the jousting game looked good) but as I'd ended up spending a lot of time chatting I didn't really have time to do the full works.
The table top sale seemed to do well and was busy the few times I went through. By 2 it had pretty well finished. My only purchase there is detailed below. There seemed to be more 'groups' running bigger tables? Which seems a good way of doing it as you can run for a couple of hours and have a few people rotating the serving. Still seems to work well and I think a Bring and Buy in the same space would be more chaotic.
So overall, it was another good show. The impression seemed to be that it was VERY busy in the morning but that by two it was dying off and by three people were starting to clear up. Is this the trend with shows? Lots of targetted buying in a short timescale and then depart? We were chatting on the way back to the station and wondered if there was a  need for more participation games to encourage people to stay longer? But does allowing space for that mean less traders and making the show less viable? Don't know. I may keep an eye on similar behaviour at the other shows I attend this year.
And now we come to The Haul:
I had tried to pre-order most of what I wanted and the aim was to get mostly paints and bases.
From Pendraken I got the assorted Vallejo paints I needed, some more of the Black Surface Primer which seems to be working well at the moment, some of the dice holder squares to make casualty bases and a pile of Fire and Fury size bases so I can start re-basing my 15mm ACW Union to match my basing style. I also grabbed a pack of WW2 aircraft decals to go with….
1/300 WW2 British and Italian aircraft from Museum Miniatures. There are party to provide air support for my North African microarmour but also to let me dabble with Check Your Six and Bag the Hun. I've never painted aircraft before so it will be interesting to see how they come out!
Martin at Warbases had yet again sorted some bespoke MDF bases to my own spec. Some sabots to take the crews and guns for my 28mm artillery
And some bases for the artillery guards which Martin had cut to my requirements.
I've had quite a few fiddly base options done over the years and each time Martin has done me proud.
I had some figures and Basetex to pick up for Essex Boy from Irregular. They only had one pot of Basetex so I used the 'refund' to get a limber for the 20mm I'll be painting for the Fram game in October. I then found someone else stocking Basetex so EB got to fulfill his order!
Is Basetex used as much now? It used to be the 'in thing' for basing but seems harder to find now as basing styles have moved on?
And finally, the table top sale bagged me a copy of Avalon Hill's Wooden Ships and Iron Men. Missing half a dozen ship counters but otherwise in excellent condition. £3. Bargain!
So that was the lot? I managed to not start any new periods or scales but it was close on several occasions! Had a nice chat with Pete Berry and almost grabbed some of the new WW1 Brits. I think they are on the books at some point this year as they are rather nice. Alex and Peeler etc. of the Yorkshire Coast Wargamers are currently working on a FPW variant of their DBN rules. And I think 6mm would be the ideal for this! Maybe next year…
Next show for me should be A Call to Muster on March 22nd but as I'm currently planning my first trip to Salute a few weeks after I may have to preserve my spending power!
Now, on with the painting!