Since the Ayton game in May I've been right off painting. Distinct lack of mojo. I think the regular annual stress of getting everything painted for the weekend was a little too much. Always worth it for the game but it can be hard to get back into the painting routine afterwards. And it has taken a while. But as ever, a deadline has provided the spur!
This coming weekend sees a gathering of some of the Ayton gamers and members of the Loose Association of Wargamers forum gather in Framlingham, Suffolk for a weekend of gaming, beer and good company. There are a number of games planned (which I'll report on next week) but for once I didn't need to paint anything. Which of course, meant I had to do SOMETHING! And as my plan for the Saturday was to take part in a 20mm WSS game being run by Iain Burt (Essex Boy) this seemed the obvious chance to do the Savage Swans in another scale and period! I had hoped to do a small brigade but, as you'll see below, I was working on other stuff as well so in the end just did the main unit and an officer.
The figures are Les Higgins 20mm customised by Iain Burt and are done in the traditional buff and green of the Swans.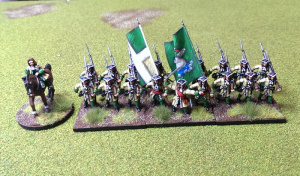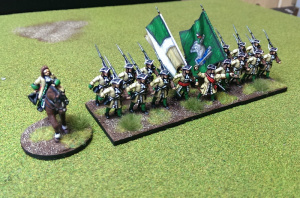 I have to admit I found the 20mm quite hard to paint. The techniques I use on my 15mm and smaller didn't quite work, and the 28mm style seemed overkill. But they got there in the end.
Long terms plan is to do the dragoon contingent and a couple of units of Altefritzenburgers
So, having done those, what else?
Well, following the pummeling my troops took from the massed enemy guns at Ayton I decide the Swans needed their own artillery battery so to start that I present Die Große Eingelegte!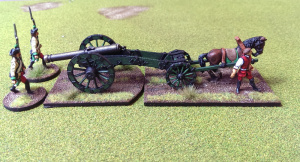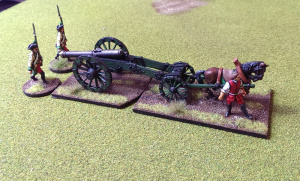 The gun is a Fife and Drum 12lb Vallieres generously given to me by Jim Purky in my last order. It is a lovely big model! I have a two horse F&D limber to do at some point but for now the limber is an Irregular Miniature model. The figures are RSM. For my other guns I had done the marching figures fixed to the gun 'base' but have decided single figure basing is better. The curved base done especially for me by Martin at Warbases.
I have two ways of deploying the gun. Using a large textured base (idea stolen from World2Dave!) I can slot the figures in and have spare slots for markers, barrels, cannon balls etc.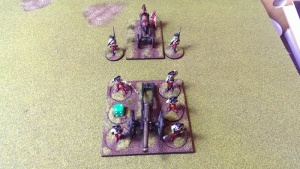 The alternative is to just use a loose gun and single based figures: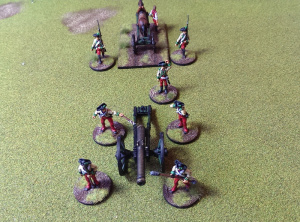 The gun crew are Fife and Drum Continental gunners. I have all my gunners and engineer types with read waistcoats and trousers. The others have black leggings which tempers this a bit but these chaps are going for the whole red leg look! And it is great news that Fife and Drum and an increasing number of the Minden range are now available in the UK from Crann Tara Miniatures
I will add a second gun (smaller) and eventually use this limber for that and the big limber for the 12lb'er
And that is not all!
I've recently just finished reading two novels and two novellas by Marko Kloos which fired up my 6mm SF interest. And while searching for 6mm figures I came across Microworld Games and after contacting owner Steven Salotti ordered some sample packs of their Foundationist infantry. Steven kindly threw in some vehicle samples as well. They are lovely little figures. A little smaller than my existing ex-Adler Dark(est) Star but the right style I wanted.
I've only painted a couple of squads and some support but will be doing others and I have plans for a couple of dropships to go with them. Painting was simple. Mid-grey undercoat, black wash, lighter grey dry brush and weapons. I've painted each squad with a different colour shoulder pad to help ID on the table.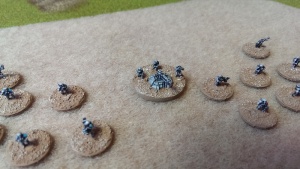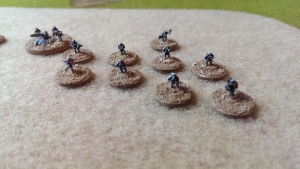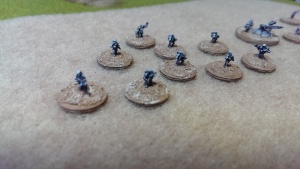 My 6mm SF is based around powerful corporations and these represent the NACCorp – North American Commonwealth Corporation.
So I'm quite pleased with that lot and looking forward to this weekend where I hope I will take lots of pictures!
Cheers
Andy