I haven't managed a show report for the last few shows I've been to. Partly I've been a bit rushed for time and partly at some the lighting just doesn't allow any decent photos! So for my last outing of the year I thought I would make an effort and this show deserves it! Battleground is the new show replacing Smoggycon and now run by the chaps at Pendraken. And they've done an excellent job!
The Venue
Based at the Queens Campus Sports Hall, Stockton-on-Tees the space is the ubiquitous sports hall of many shows but without the horrible yellow lighting that ruins any attempt at decent photos!. The room was large, airy and well lit and a good size with traders around the outside and along the far side of the hall and the games in the middle. There was a table top sale area but throughout the show this seemed very quiet. Maybe people were too busy in the run up to Christmas to sort out stuff to sell but it was strange to see what usually seems a good idea so quiet.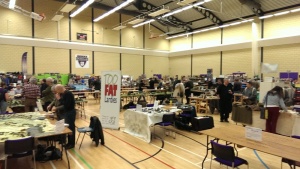 Food was available at the Aroma Cafe on the other side of the car part (which provided plentiful parking) and did decent coffee and a good range of snacks. Given its usual student focus it did have some options for the diet-awkward of us!
Traders
There was a good selection of traders including Caliver and Baccus so spending wasn't an issue. I hope they all had good days and return next year. It was nice to see Peter at Baccus venture into the North East and I feel bad about not having had chance to say hello.
The Games
There were about 22 games roughly split evenly between display and participation, the latter a good thing at a show. The games were a good standard and I managed to pictures of most so I'll drop a photo and comment here and you can look in the gallery for a few more pics and hopefully have no trouble ID'ing them!
Lancaster Cellermen – for me this was the highlight game of the show. Harking back to the days when wargamers wore ties it was a small SYW game using mostly Spencer Smith figures but with a good smattering of RSM and Holger Erikson, all very nicely painted. The guys running it were happy to talk and it was great to see some good old school figures played with simple one side of A4 rules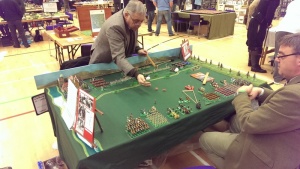 My local club, Tyneside Wargames, had a grand scale WW1 1914 game of the Schleiffen Plan using 10mm figures which gave a good feel for a grand strategy game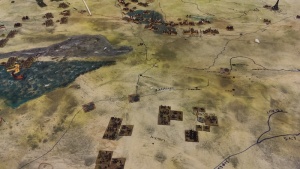 Border Reivers had their usual impressive game, this time focusing on Vietname
And if you wanted a 'large' Napoleonic game then you could look no further than Durham Wargames Group's 54mm Waterloo game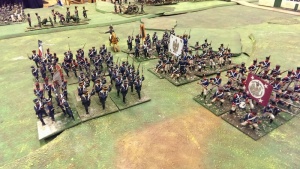 It was nice to see some 28mm Great Northern War from Reiver Castings. This is one of my 'want to do' periods that seems destined NEVER to happen. I've attempted it several times now in several scales and never got going. One day…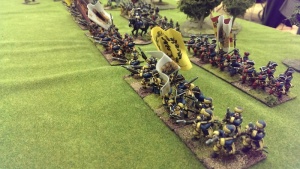 The Independent Wargamers had an excellent 28mm Italian Wars game with some lovely figures and beautiful flags and banners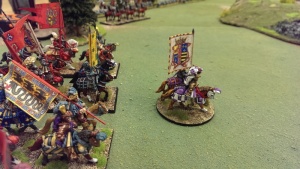 The 68th DLI Society had a most interesting looking Kriegspiel style game. I kept meaning to go back and see what was going on but never seemed to catch any one.
And there was a good selection of SF on display from the likes of Critical Mass
Scarborough Gamers Society Oldhammer 40K
WW2 had a few games in evidence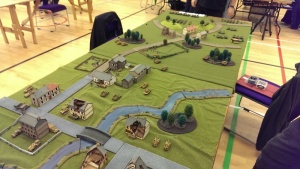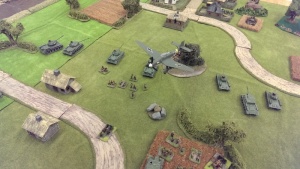 There are more pics in the show gallery and it helped that the show had a good leaflet listing games and also each game had a sign stating what it was and who was putting it on. If only I'd managed to take pictures of all the signs!
The People and the Haul!
It was a very sociable show for me and good to see a couple of the Ayton crew (Simon T and Tim W and Alex T turned up later as well) and some of the AMG members (Mark D, Dave J, Graham C, Robbie R). Graham had a stand for Crann Tara Miniatures and it was good to chat with him about plans for the range and pick up some new toys. I'm looking forward to the big AMG game at Partizan and meeting a few more and having some proper time to talk.
With it being the run up to Christmas and my daughter's birthday next Thursday and my new desire to trim down projects and not get distracted I was very restrained in my purchases…. sort of…:)
Crann Tara – enough for a unit of French. Lovely figures. I want more!
Warbases – Martin put together some sabots for me for next year's Ayton game. I intend to re-base my troops so I can use them singly.
Caliver – Stuart Asquiths's two books on the Sudan War and Mr Grant's new scenario/campaign book, ATTACK ON THE JÜNGER which on first browse looks most excellent with some lovely eye candy. If only I had enough figures to play these games! The Wargames Annual 2015 is on my Christmas list so I (hopefully) await that from Santa!
Pendraken – Yes. Well. No more new projects. I blame Essex Boy. One pack of 1882 British Army. Don't ask…
And I think that was it! A really good day and Leon and the Pendraken team are to be congratulated on an excellent show. Roll on next year!
There are more pics in the Battleground 2014 Gallery. I will try and add comments to ID the games I've not mentioned above.
Andy