I have returned from a most excellent day in York! Set off early this morning. 07:55 train. Managed to get cheap First Class tickets both ways which meant free snacks. But not many vegan options so just lots of free coffee! Arrived at 9am and there was a No. 4 at the bus stop so ended up at the Racecourse by 9.30! Luckily the organisers weren't making early birds stand out in the cold so was in the show nice early. For once, apart from being a bit nippy, the Show wasn't subjected to snow and rain!
The organisation and layout of the show are pretty standard each year and a nice handout points you in the right direction. I usually try and take lots of photos at this one as the light is generally quite good but for some reason I hadn't fully charged my phone overnight so I restricted photos to the games that really caught my eye. Not to say the others weren't good, but just not my thing!
First up was Mark Dudley and the Ilkley Lads 40mm semi-flat Blasthof Bridge participation game using Charge rules. Lovely figures, simple terrain and good Old School fun!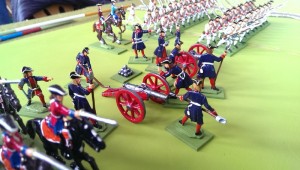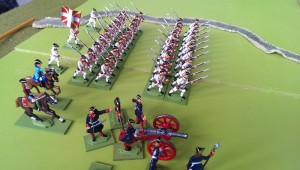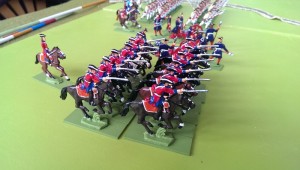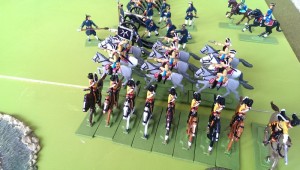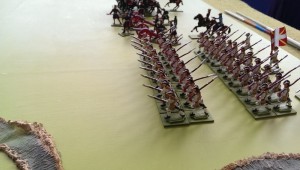 But most important were the kids playing and enjoying the game throughout the day. Excellent stuff!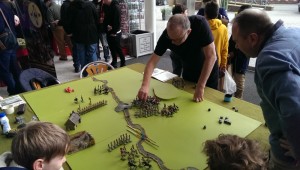 Hidden away at the far end of the first floor was an excellent looking Third Afghan War, 1919 Bolt Action game. And I really wish I'd taken away the leaflet I was handed! Put on by East Leeds Militaria, it was an excellent looking game: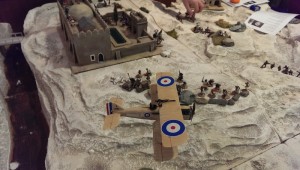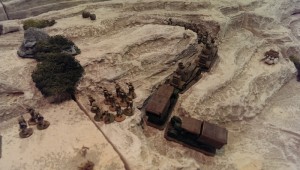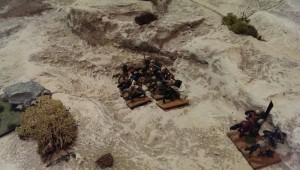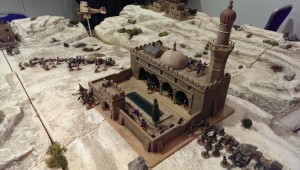 Ground floor centre was a very well presented Rorkes Drift game by Rotherham Wargames Club: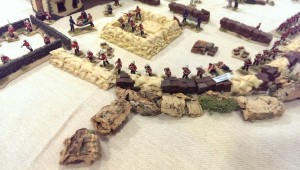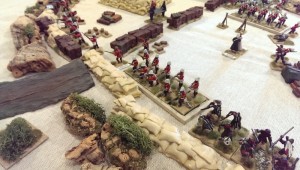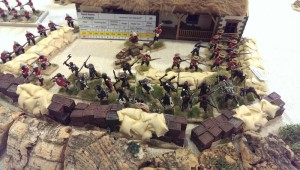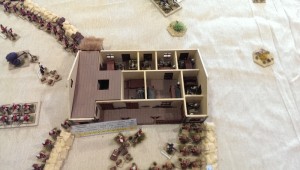 And John Paul Jones raid on Leith 1779 by York Wargames(?) had the usual excellent terrain and lovely model ships: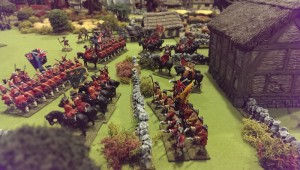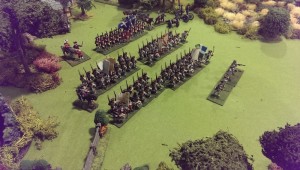 And finally, the Bunker presented some zombie goodness with Shaun of the Dead: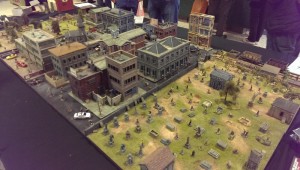 There were obviously many other excellent games on but a large part of my day was spent socialising. Apart from the usual bumping into people during the day (very nice to see Levied Troop!) there was a gathering (in the bar obviously!) of The LAW crew (The Loose Association of Wargamers) and then an excellent gathering from John Ray's A Military Gentleman forum where it was great to put faces to names and nice to finally meet and chat with Charles S Grant (and son). The AMG forum is a great gathering place (for purchasers of John Ray's book) and is always inspiring and entertaining. I'm really looking forward to the game a group of forum members are putting on at Partizan in May so I best get on with the painting!
So what did I buy? I didn't really have a list for the show as I have plenty to be going on with. I was just pleased I didn't buy into a new scale or a new period! So…
1 x pack Old Glory 15mm Pikemen
1 x Blood, Bilge and Irons Balls naval book/rules
2 x horses from Graham at Crann Tara for the wagon I got at Christmas
some paints, primers and washes
And from the table top sale, a copy of Risk (£4) and a load of Pirates Constructible Strategy game collectable ships and game (£10). I've been thinking of getting my lad to play risk but I still have my old 70s copy which although good and nostalgic for me may be a little boring for him so I'm hoping the nice figures will inspire him! The game and ships I'd looked for before with a view to using them for Blood and Bilge so this lot was a nice little bargain!
I got the feeling the turnout for the show was pretty good. Close to pay day and not snowing must have helped! A couple of traders I spoke to were happy with the takings so hopefully that applied to all. A good day on all fronts and congrats to York Wargames for all the work again. And the day nicely rounded off by an hour in the York Tap drinking Bad Seed Brewery Expresso Stout. Very nice. And vegan!