Having spent the last week with the family up the coast at Low Newton, we vacated the cottage this morning and headed back to Newcastle. After dropping my daughter off at the stables my wife dropped myself and my lad Zach at Gateshead International Stadium around midday for Border Reiver. This is likely to be my last show of the year and despite my best efforts I'm going to have to work the weekend of the excellent Battleground Show in November. Zach was feeling a little off as last night as we settled down for a relaxing drink and movie on the last night of our holiday, he fell, smacked his head in the door frame and ended up in Alnwick hospital to get a nasty little cut over his eye steri-stripped. But I'd promised to take him to the show and he still seemed keen.
Border Reiver is a nice little show and being local I always meet a good few people there. However, like a lot of 'sports hall' shows it suffers from that horrible yellow lighting which is fine for the show itself but a nightmare for taking pictures. This, combined with having a 7 year old in tow meant I forwent the taking of pictures. There were some good demo games on though. The Whitley Bay 3D Gamers were running the 20mm Afghanistan game using a variant of Chain of Command. I'm quite keen to try this and also to see if it will work for 1980s Cold War. The Tyneside Club had a nice 10mm Waterloo game and… that was all I took note of really as I was dragged around the show in search of 'space things'!
I did manage to pick up the few things I went for: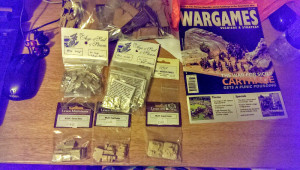 It was nice to see Leven Miniatures there. I've seen a lot of their stuff online, mostly on Ian Willey's The Blog with No Name, and have been tempted by stuff for a while so it was good to see them in the flesh. I was quite restrained and picked up some tents, supply dumps, fuel dumps and some Perfect Six Scenics wooden crates. These are all for scenic 'specials' for my assorted Cold War 1/300 armies. Eventually… Was nice to have a chat with Mr Leven as well.
Needless to say I had a load of MDF bases to pick up from Minibits. All for the continuing basing of my microarmour. It seems we have lead piles, plastic piles and now MDF piles!
And finally, showing great restraint and sticking to my plan of finishing off existing projects… I bought two Starter Packs from Tumbling Dice. 1/2400 Mid-Victorian French and British ironclad ships… This is to 'expand' my C19th Imaginations. No doubt in time for Ayton 2019 when we should be scheduled for our next C19th game! 🙂 (2017 will be Lion Rampant themed…)
Zach picked up a Chaos Marine and a Halo Heroclix figure. And on the way home a M1 Abrams 1/90 4D puzzle. 35 pieces that make a quite nice looking model. Quite usable if it wasn't for the gap between all the pieces! 50p in a charity shop.
And when I got home the latest Wargames Soldiers and Strategy was waiting for me. Looks like an excellent First Punic War themed issue. I shall be discussing magazines again soon.
So all in all a nice little day. I now have no idea when I'll get chance to paint anything again as the kids are back at school on Tuesday and it'll soon be Christmas!
Nice to catch up and chat with a few people at the show. Thanks to the Border Reiver Club for organising.