Today was the annual York show, Vapnartak, at York Racecourse. I've been attending this regularly for a few years now and it is always a good show and a good start to the gaming year. For a change this year I travelled down on the Saturday afternoon with the intention of meeting up with Iain Burt (Essex Boy) for a few beers. Couldn't find a cheap place IN York so I ended up at The Bay Horse in Fulford. Clean and friendly B&B, they even sorted me a vegan breakfast. And easy to get to and from by bus (last bus back at 11 though). So last night had a few beers and nosh at Wagamama with EB and a good rant/natter. After a good feed this morning I walked across to the Racecourse via the Millennium footbridge. Bright and chilly it was nonetheless a pleasant walk in.
I didn't have a huge purchase list for this so the show was more about meeting a few people (from both LAW and AMG) and chatting. It was nice to see a few traders had been moved around and there seemed to be more space between stalls/tables so even at peak time it felt busy but not congested. I didn't get much time to view the demo games but those I saw were the usual high standard. A couple did seem rather 'static' and I have to admit I'd quite like to see some of the 'regulars' trying something a bit different or giving other clubs a chance. Admittedly there may not be many other clubs chasing the spaces but it would be nice to see some new blood…
The Alamo game looked particularly nice and I grabbed a couple of pics of other games. These were a bit last minute so I missed getting shots of the upstairs games. The Dragon Rampant siege looked rather nice though!
The tabletop sale area seemed rather busy on number of occasions and I only managed two run throughs and came away with wallet intact! I know a couple of people picked up some bargains though. There did seem to be a couple of tables/groups there who appeared to have booked quite a long session. Not sure if there is a limit on time but a couple of the sections just felt like a normal Bring and Buy with the same stuff there an hour or more later…
What did I buy? First up was REFIGHTING HISTORY –VOLUME 1 SEVEN YEARS WAR – FIGHTING WITHDRAWALS by Charles S Grant. The first in a new series. I have all his Wargaming in History books and rather like them. Like them, this is not cheap (£32.50) but the production quality is spot on. It is A4 hardback and full of lots of eye candy from both Mr Grant's collection and that of John Ray. I'm looking forward to delving into this over the next few days so shall report back.
I also had some battalion guns and crew to collect from Graham from Crann Tara Miniatures. These are the few extra I need for Ayton. Best start painting! And finally, as I have partaken of the latest Forged in Battle Kickstarter, I bought a pack of Celtic infantry so see how they paint up. If I get round to painting them! And final purchase was next month's Wargames Illustrated which has Marlborough as the theme. Looks a good issue and the content of this mag has been improving much of late. May consider a sub again soon.
And that was it! Very modest purchases (apart from the book!). It was good to meet up with various AMG members (I really must get round to re-registering!) and a few LAW members. Always good to catch up. And good to see some members of the Tyneside and Whitley Bay clubs making the journey as well. All in all a good day. Thanks again to the organisers. And the day rounded off nicely with a few beers with Iain in the York Tap as we awaited our respective trains.
Workbench update
Things have been a little slow so far this year. Despite my great plans I've failed miserably to stay Wargaming Neutral and the only time at the work bench has been to do a little basing and a little more to the modern British…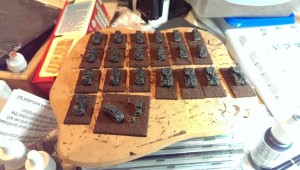 Still, better than nothing at all. Hopefully the rest of this month will see things moving again…