And for once I am NOT painting and basing!!!
I had fairly modest plans for adding to the forces for this years C18th ImagiNation game that Henry Hyde is running for us (see Henry's Wargaming Journal for the campaign build up) . Henry had placed some restrictions on the size of our forces to curb the Ayton Arms Race. This was also going to be a more traditional Horse and Musket game so less 'exotic' units – my Indians will be there but the Altefrtitzenburg Anti-Elephant Battery are in barracks breeding more pigs!
To make up a suitable force in terms of number of units I decided to field my 'half' regiments – splitting my 48 figures units and adding an extra command stand. This gave me a 5 stand unit under Henry's Shot, Steel and Stone rules which is a little fragile. So I decided to add battalion guns to each unit to give something like:
I also needed to do the second command stand for my 'split' Braunschweig regiment. The original flags were done for me by Tim Hall – seen here:
But I wanted to do the new ones myself. I had the required Minden command figures (French I think) and spent some time with the GIMP and a template from Not By Appointment to come up with my plan for Braunschweig standards that fitted in with what Tim had already done. Each regiment carries a national flag with the central emblem with the national blue colour. The second standard, regimental, carries a I or II for the battalion (when split) on a background of the facing colour. Tim had reversed the colours of the cross which I think I wish I had done too – and may still do! Anyway, here they are:
Way back last year as part of the excellent AMG game at Partizan I added a unit of Kuirassier to my Altefritzenburg forces. This was only 12 figures plus an officer. I had hoped to do a full 24 figures unit but time, work and family…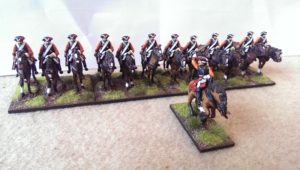 For Ayton I really wanted to finish this unit. It's only 12 cavalry I thought! Plus a couple of officers. And a two figure command stand! And cavalry take AGES to paint!!! Lots of little bits and when you think you are nearly done there is still the horse to paint! 🙂 But I got them done. The original squadron had red shoulder straps, hair bow and red cockade. I wanted to differentiate the other unit so again, if I split them and do another command stand, they will be a little different. So instead of red the new squadron is green. Quite enjoyed doing the flag as well! Big is good!
Annoyingly I forgot to add the main officer figure (seen with the original unit above) in these pictures…
And finally, the first action of this year's campaign was a brisk cavalry action  which Henry has written up on his blog – Ambush at Ubbynedre and fought as a real action with figures and all! As part of this Henry created a commander for my cavalry – Brigadier Weisswurst – who performed rather well. So as a last minute thing I decided I needed a figure for him. I wanted someone dashing so used the Fife and Drum Tarleton figure. And I may use the uniform for my next unit of cavalry!
And now the troops sit in their mobile barracks as I await doing battle with sleet, rain and snow to get there tomorrow!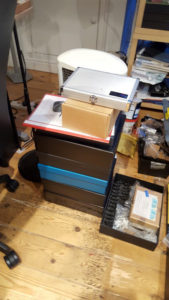 It promises to be yet another excellent weekend and I'm really looking forward to it.