Well, after a bit of a stressful frenzy I am ready for tomorrow's To The Strongest game at The Foundry. The legion I had painted back in 1973 has had shields repainted and been re-based. From this: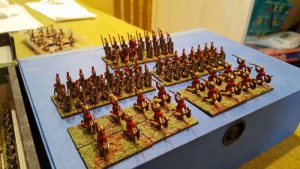 To this:
I've never been happy with the brown shields so now seemed the right time to make the change.
All my generals were based for DBM (mostly Cav(O)) so I wanted to make them look like 'proper' generals so moved them to round bases and painted another couple of foot figures to give me a third base.
And while sorting through the figures for Saturday's game I found a load of slingers and Carthaginian cavalry that needed re-basing. I also needed to re-base the Carthaginian generals and paint up the foot figures needed for them. And also to do a Spanish sub-general…
So for having NOTHING to do for the upcoming game this is what I ended up doing…
Looking forward to the game which is now today as I fell asleep while typing this last night!