After a bit of a delay I've finally finished the next batch of Mahdists for my 10mm Sudan project. Again, I have adapted Dave Docherty's excellent approach to speeding up the process. A batch of shaved head chaps were done using the same technique as the Fuzzy Wuzzies detailed earlier. This post will detail the later Mahdists and the approach used.
As these chaps are predominantly dressed in white(ish) colours the whole batch was spray undercoated in white (Halfords Primer)
The flesh areas were then painted in Vallejo Flat Earth
Shields painted a variety of browns and a few red bits added for contrast
Then a thinned Vallejo Sepia Wash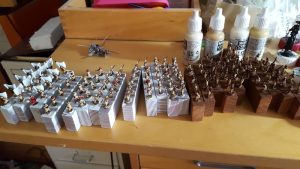 As the wash stained the white more than I planned I went over them highlighting with a mix of ivory and off white
And final details and bases painted
And finally the flags painted. Text was done with a white gel pen. Only slight issue with this was when it came time to varnish where one flag smudged…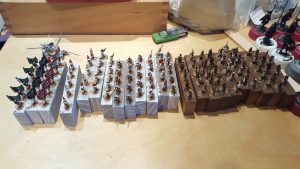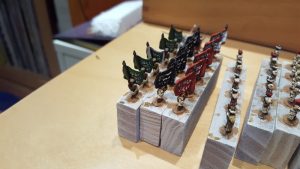 And on to basing…
Having done a couple of command stands as well I think I have enough for a small game. Possibly with The Men Who Would be Kings. Possibly something else. Either way I thought I'd get some of desert tiles out and parade the troops!
What to paint next? I've got the next lot of 10mm 1806 Prussians lined up so maybe them. Or I might do some more Sudan. Quite enjoying these. 10mm can be quite quick to paint and looks excellent. Nice to finally get a project moving…