Made the annual trip down to Partizan today. Had to get a hire car as my lad was doing the Gregg's Cancer run so my wife needed the car. This delayed setting off as I spent five minutes reading the car manual trying to find out how to open the bloody fuel cap!! It's a nice run south at that time on a Sunday so after a brief coffee stop at Blyth Services I arrived at 10:15. The queue had dispersed and I walked straight in.
The new venue is excellent. Plenty of space but it did get a little warm at times today. I had no great plans to buy anything. I'm trying to be sensible and rationalise projects. I'd ordered some green stuff from Minibits to be collected from Eagle Figures and I had a few 15mm Japanese buildings to collect from Brendan Morrissey. So apart from the odd pot of paint and some bases that was all I expected to come away with. The best laid plans…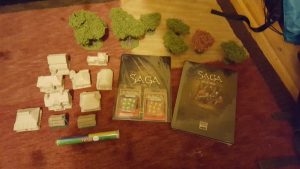 I know it doesn't look a lot but… As I want to do some 28mm Sharp Practice (I now have a couple of Conflix pre-painted buildings from EB at Ayton) I thought I really needed some tree so Last Valley provided my first 28mm scenery! Not a lot but a start. And as I'd been reading a bit about SAGA v2 and have some Normans AND now have some 28mm scenery I cracked and bought the new version! And the Viking boards. And some dice… You can see the buildings there as well. Brendan convinced me to buy the extra Russian types he had a well and as two were nicely painted it seemed churlish to refuse! I suppose I better paint some Saxons now…
So…the rest of the time was spent meeting and chatting with Simon, Iain, Graham, Gary, Kerry, John, Jeremy, Jamie, Phil, Henry and numerous others at different stalls and games. All in all a good social event!
There were some excellent games on show and as I spent a lot of time chatting I didn't get to do an extensive set of photos so I'll just pick a couple for here and the rest will be in the Partizan 2018 Gallery.
For me the highlight game was the 28mm Stalingrad game from Earlswood Wargames Group. An outstanding table that looked like a WW2 battlefield should look!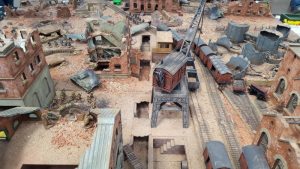 The League of Gentleman Anti-Alchemists The Biscotti Wars – Garibaldi in Sicily 1860 had some lovely figures and an outstanding centre piece: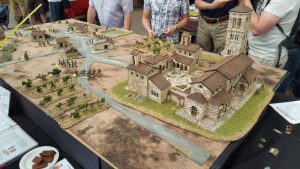 The Perry's put on a lovely 28mm AWI game though I suspect all their games look like this!
And the large Zulu game from North Hull Wargames Club – Battle of Islandwana looked excellent!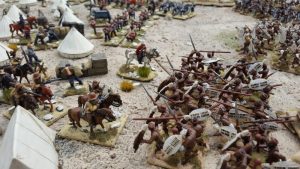 And too many others. I'm sure when Henry Hyde posts his official show report his photos will do them all justice.
Thoughts on the games – There seems to be a increase in the use of printed mats and cloths and fur as the base terrain for games. Fur done well looks great (Graham's Crann Tara game) and the pre-printed mats look really good nowadays (The Biscotti game and Simon Miller's ECW game) but a couple of games used home made cloths and I thought they just didn't work and distracted from otherwise lovely figures and terrain. I've tried colouring my own mats and it's not easy so I'm not claiming any superiority here! And other games set the bar really high.
Traders – I was listening to the recent chat from the organisers on Henry Hyde's podcast/battle chat. It was good to hear some background on how the show developed and the plans for the future. I like the focus on the separate areas (participation, trade and demo games) but I'd really like to see a few more traders let in. I understand there is a waiting list (and a long one for some traders!) but some traders seemed to have a LOT of space. I wouldn't want to see traders crammed in with no room to browse but I really feel a little adjustment would allow a couple more of the well know traders in. I did wonder if there could be a 'new traders' area. Just small stalls with new and upcoming companies having the chance to show stuff off. With advance orders they could bring stock to cover those and a sample stock to entice new trade. But what do I know. I've never organised a show and I doubt any decision would keep everyone happy…
I'm not really complaining. It's a two and half hour drive for me and if I didn't think I was going to enjoy it I wouldn't go! I left about 2.15, more because I wanted to be home for the kids in a reasonable time. I could happily have stayed 'til the bitter end and chatted away – it's that kind of show. And long may it remain so.
A