After Partizan and my birthday and a week in Cornwall I've not really had time to post much or even complete stuff. But now, being back home, I've finished a couple of things off and can post re some recent acquisitions!
First up was the purchase of a Tiny Wargames grass mat. I'd seen similar to these at Partizan and at Ayton and having seen some vids of them in action on Facebook I decided a 6×4 would be ideal for the play area I have in the attic. I went for the basic cloth option. I wanted to be able to drape it over hills.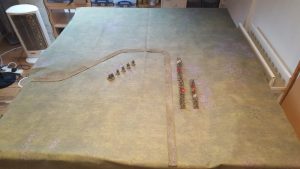 The creases need a little while to drop out but overall I'm pleased with it.
And on the table you can see some 15mm AWI I've just rebased. These were bought a few years ago from LOSH (over on the GdeB forum) and made up 27 stands of militia (mostly Polly Oliver but some Essex) and a few Hessian command figures. As I'm planning an AWI game next year these needed basing so I can see what I have.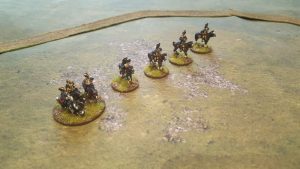 Soon, I'll dig the rest of the collection out and have a proper parade!
What next? Some scenery… courtesy of a post on a Facebook boardgame group I grabbed a pile of old GW trees, hedges and a hill (and some other bits). A good addition to the starting 28mm scenery.
Having made a pile of hedges for my 6mm games a few weeks ago I used up the last of the Javis clumps mixed with some Woodland Scenics stuff to do another 12 stands (11 and 2 short lengths).
And finally some painting… After last year's Lion Rampant Ayton game I decided I needed some javelin armed bidower types. So, using the last few bits from the Conquest Normans and Archers I cobbled six together and primed them. And they have sat there for a year! Until this week when I finally painted the buggers!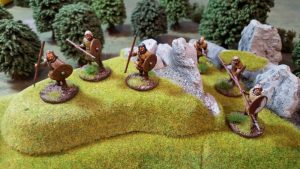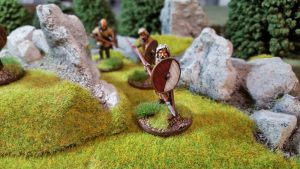 Kept the colours quite 'muddy' and dull but quite pleased with them. I now have some Gripping Beast Saxons to glue together. I kind of need Anglo-Danes to face the Normans I have but want Anglo-Saxons to give me an excuse to get Vikings! We shall see…
A