Have spent the last couple of weeks basing, re-basing and tweaking figures. I bought a batch of painted figures off Doug over at the WD3 Forums (http://wdlovesme.19.forumer.com/). They are a mix of Polly Oliver, Essex, Freikorps and some Old Glory which I may or may not use. I wanted to boost my British forces just to get some games going and will still be painting the main protagonists for Cowpens myself.
Anyway, the main British force consists of two battalions of regulars and some British Legion cavalry:


The Legion are AB Napoleonics in Tarletons with a paint job. The centre are a blue faced mix of Freikorps and Polly Oliver while on the right are a green faced Polly Oliver unit. I've not settled on what actual units these will be as the flags they came with are nice hand painted jobs but I'm not sure on the accuracy of them. Some details: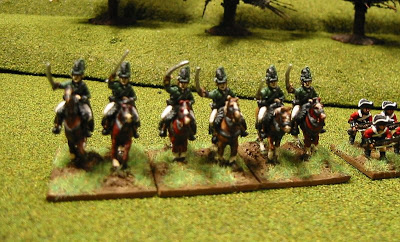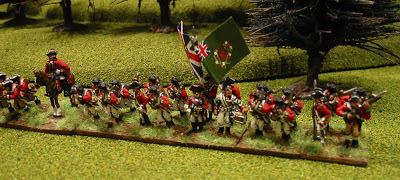 There was also a unit of Minifigs representing the 42nd but again I think the flags are wrong.
Despite still messing with my old camera I tried another of the 71st: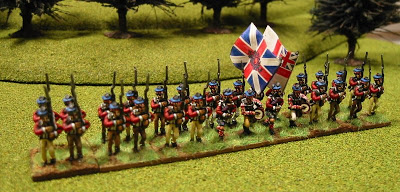 And I'm still quite pleased with how the flags came out 🙂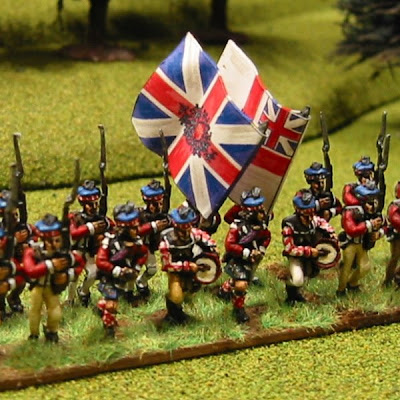 And finally, for the King, I've redone the von Bose in correct colours and with standard. This came out well too!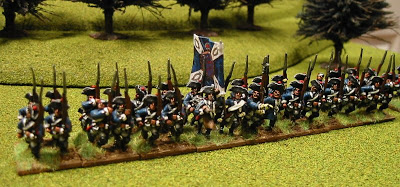 On the American side there was a unit of ragged Continentals for which I still need to do a command stand: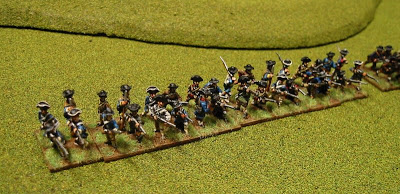 And another of nice Polly Olivers in hunting shirts for which the photo was too blurred! There are also a few Minifigs militia which I'll mix in with mine when I re-base them, and 18 Old Glory militia types. These are nicely done but the style is different from all the others and mine so I may sell these on along with some artillery crews in similar style. For the Brits, there are 6 more of the AB "Legion" for which the horses are painted but the riders only undercoated. May finish them first.
I'm still aiming to get a better camera and some better pictures and hoepfully soon I'll set up a table and get some 'parade' shots!