Today saw a trip down to Middlesbrough (my first!) for SMOGGYCON – the show that is replacing the Stockton Parade Ground shows. So, new show, new venue. The guys from my local boardgaming club (and some of my ASL opponents when I was playing the game) were putting on an ASL demo with a large scenario from the Stalingrad module, Valor of the Guards, another East front scenario and a small 'pick-up' game for passers by to try their hand. As I had a few things to do at the show and was expecting a summons home after lunch, I wasn't partaking of the ASL but I travelled down early with Andy, getting there for 8.30!
The new venue, the Southlands Leisure Center, was a bit hard to find (especially as we had no map and were asking for the Lakelands Leisure Center!) but was a modern, airy venue, with a smaller hall next to the bar and the main sports hall hosting the show, a decent size room for the Bring and Buy and a small 'cafe' area. The latter was for me a point of contention as the 'caterers' operating out of the small kitchen were way over priced for what was effectively a captive audience. Coffee was £1.60, bacon butties £3, sandwiches £3. Although the food was OK it was not really worth the money and someone had commented that you could see on the price board where they had rubbed out the old prices and written in the new (double) ones! In a proper cafe I'd have paid it, but for a couple of people with a table operating out of a kitchen it was taking the piss! Rant over…
I'll apologise in advance for the photos as even by my phone's standards they are crap!
The main hall: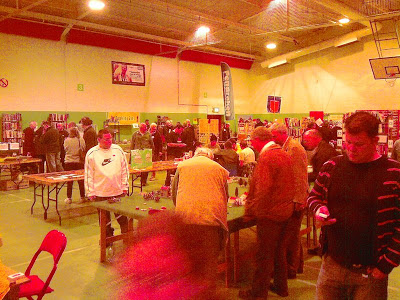 ACW game by Steve Ord: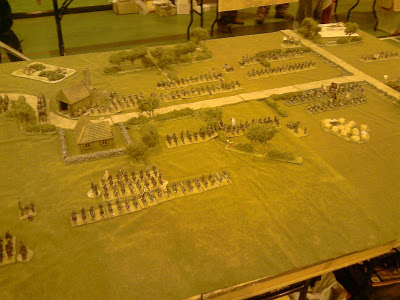 The Old School Wargames 30mm SYW game by the Independent Wargames Groups (I think!):
Tyneside Wargames Club Battle of Neville's Cross in 15mm using Great Captain rules: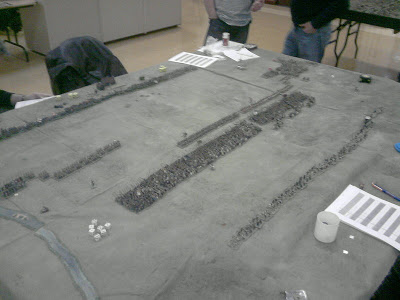 A rather nice WW1 Trench game:
This looked nice and I eventually sussed that it was associated with a nearby stall but the whole time I was there I never saw anyone actually AT the table! Was apparently by Game of War.
And finally, the ASL guys, Neil, Andy, Brian and Tim: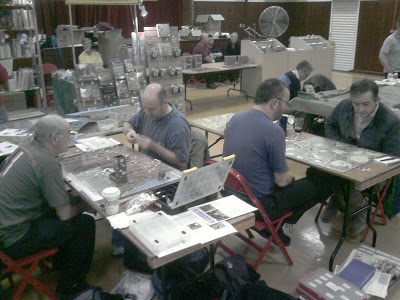 Bring and Buy
This was located next to the 'cafe' off the smaller hall and was rather disappointing. The space was good but I don't think the tables were ever more than two thirds full. And there was nothing there to take my fancy. Again, maybe first show and uncertainty of turnout so why bring stuff that maybe won't sell? Hope it is better next year.
And I also met up with Peeler having missed him at the last couple of shows!
Purchases: the important stuff!
This was less than planned. I'd been hoping to pick up the river sections from Brian at Mutineer Miniatures but he still had another coat of varnish to apply so they will be arriving by post next week. I did buy some short grass tufts though. And was very tempted by their new 28mm Indian Mutiny range. From Dave at Caliver I picked up a copy of Lasalle. This is very nicely produced and I'm looking at how to do some figures to fit with this as it's unlikely anyone at the club will follow as there is a firm Empire V group and the growing Grande Armee team. I'm vaguely tempted to try something in 6mm that I can adapt to use in Grande Armee as well. We shall see.
I did a search for a suitable Demon type figure for my AWI Witch Scenario but nothing suitable could be summoned forth. I was tempted by Sommerfields books on the Prussian Army but at £30 each they may have to wait! Maybe a suggestion for Santa?
I managed to resist the Pendraken 10mm – at least for the moment – and the only lead purchases were some Irregular 6mm Prussian generals, some guns and some casualty bases. With the latter, such is my deteriorating eyesight, that I had to take his word that there were actually some dad figures on the base! I was very tempted by a Baccus Napoleonic Starter pack that Gateshead Gaming were selling. Originally c.£90, it was going for £40 with only a few figures painted/undercoated. Although I'd probably not have used all the bases or the rules it would still have been a good price. And here lies the moral. Buy it when you see it! Went back 10 minutes later and it had gone! Fate…
Apart from a pot of Humbrol Prussian Blue and some dice and markers for Grande Armee, that was the lot! I'm sure my wife will be grateful for that with Christmas approaching!
It was, all in all, a good little show. Close to Christmas with the current economy there was always the potential for a slow day, but I felt the turnout was good. A couple of traders/demo games failed to show but generally the turnout was good. The Middlesbrough club staff were enthusiastic and helpful and also seemed to think it went well. For a first show it was good and deserves to do well next year. Given the number of other shows on at the moment I wonder whether they'd be better taking the old Spring Parade Ground date? Either way, congrats to them and good luck with the next one!