First up, a welcome to Gauntlett, my 160th Follower. And visits have now topped 54,000 so despite the slow progress and lack of big updates and AARs recently it is nice to see people still popping by.
Gauntlett's blog has some nice little posts on Force on Force and also some pics of the Mars 20mm US and Mujahideen which he will be using. Although I've got some assorted metals in 20mm for my proposed Cold War stuff, there is always the temptation to try the plastics and venture to Afghanistan and Iraq, especially if I can find a way to paint them quickly! We shall see… Not sure another diversion would be good!
And on that count, those of you who have not long abandoned viewing the Painting Master Plan to the right on account of it's rather static nature, will have noticed that it has changed! I've mentioned before that I've been trying to rationalise my projects so I at least have a chance of finishing some and this new version reflects that.
This is the old one: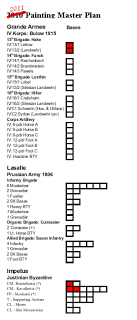 I've decided to put the big 6mm Napoleonic projects on indefinite hold. Too much at the moment. Likewise, the Impetus Justinians. This is still an army I want to do at some point, but going 6mm, even with smaller Impetus armies, means I still need to do both sides and again, time precludes it at the moment.
Soooo… the main aims are to get the FUBAR, Moderns of various kinds done. Mix that in with the 28mm I need for next years Ayton game, and then (and that Henry Hyde still gets the blame!) my WW2 Western Desert project.
Currently on the table are lots of FUBAR! Getting close to finishing what I want for these and now thinking re terrain to actually get a game. And I'm looking forward to doing the Syrians.
More to follow over the next week, hopefully with some pics next time.
Still cracking on with some FUBAR stuff.