First up, a Happy New Year to all my followers and passers by. I was down in Cornwall with the in-laws over Christmas and New Year and then straight back in to work this week so I've had little time to post anything anywhere. My wife did me proud with presents this year, getting me the 2012 Wargames Annual, the latest Matthew Hervey book from Mallinson, and the GHQ A9 and A10s I wanted! Quite happy really..even if the break was tiring with the kids up at 6am EVERY morning 🙂
So we come to the:
Another Slight Diversion 2011 Year in Review.
I've got to start with this really 🙁 This was my great master plan for keeping my hobby and my spending under control for the year. To be honest, the first half of the year went pretty well. I managed to sell a few things to fund projects and kept the painting going steadily to justify new purchases. Then come the last three or four months it all went pear shaped! Here are the final figures;
Available Credits
-466.50
Available Funds

-394.48
I ended up lumping together the last months as I'd failed (feared!) doing the monthly updates and to be honest I may have missed a couple of things off. Nothing major I think… I've excluded the purchase of rules as this would likely add another hundred to the total.
The main culprits have been the RSM and the GHQ. The RSM I need for the 2012 Ayton Game and I'd hoped that by getting them early I could avoid the rush to paint them. I have about sixty sat next to me undercoated and ready to go. Just need to start. The GHQ was a massive expense but the bulk were bought at half or less price and have given me the core of my Syrians and decent Italian and British forces for 1940/41. Still need a few odds and ends but not a lot and there will be some scope for selling/trading spares.
Do I intend to carry this on into 2012? Yes! This, and the Painting Master Plan give some structure to what I'm doing and it will be a challenge (likely a hopeless one!) to get those figures out of the red by the end of the year.
Review
I'll restrict the review to a few highlights and a general moan!
THE highlight had to be the Ayton Game. It was a pleasure painting up my Savage Swans and the weekend itself was what wargaming should be about: great figures, great games and great company. I am REALLY looking forward to this years game and to getting back to some 28mm painting.
Projects – despite getting little actual gaming done, I did keep a few projects going and even completed a couple! I'm most proud of the Swans.
Really please with how they came out. Next up has to be the FUBAR project.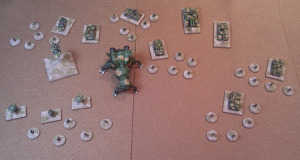 Still no game played (coming soon, I promise!) but fun to put together and also to follow Michael at Angel Barracks and his project and games. I met up with him briefly en route to Cornwall and he is a very nice chap. I almost felt guilty doing my upcoming Colonial stuff in 10mm and not 6mm!
The Modern stuff has ticked along, slowly making terrain as well, and a good push would see the main armies finished. Got slightly distracted picking up some IDF but that enabled me to almost complete my initial Syrian forces and led me to the guilty pleasure that is GHQ.
Finished off bits of Punic related stuff which I was rather pleased with even if I've hardly played any game with them.
Games – bit of a poor show quantity-wise but made up for by the quality! Again, the highlight was the Ayton weekend. Fun campaign and games. You can follow the tale in Issues 26 and 27 of Battlegames with more to come in Issues 28 and 29. Managed a couple of small Impetus games (both fun) and a couple of Cold War Commander games (here and here). And apart from dabbling with the Waterloo game at the Christmas meeting, that was it… hopefully more this year though I feel the weekends being allocated already and time flying past!
Other Stuff – what else grabbed me? The whole Battlegames demise and rise was a worry. I love the mag and would have been sad to see it go. Its takeover by Atlantic, albeit with some issues over the digital issues, is a relief. Hopefully I'll get chance to post a review of Issue 27 soon. Wargames, Soldiers and Strategy continues to deliver a quality product as well. I resubscribed to Miniature Wargames as I've been enjoying it recently, only to find the last couple of issues less than expected. I bought the last AWI themed Wargames Illustrated and wasn't hugely impressed. It was the first I'd bought for a while and will likely be the last for a while. The mag just doesn't do it for me…
I also picked up the new I Ain't Been Shot Mum from TooFatLardies. A very nicely produced set with some good ideas that I hope to try this year. The Yahoo group is also very good and it has been pleasure seeing Richard's input to the hobby via this and various magazines.
And finally I discovered the Meeples and Miniatures podcasts. Neil Shuck's enthusiasm for the hobby comes across really well, there's a good range of reviews, and the interviews are well worth a listen. Recommended.
And 2012? Well, you can see the Painting Master Plan. Priority has to go to the figures for Ayton in May. Then finish the Syrians and make a start on the North Africa stuff. Anything else will be a bonus. I'd love to get more games in and will be negotiating over the coming weeks for when that night happen. A FUBAR game is a must, even if solo. It would be shame to have gone to all the trouble of putting the forces and background together and then not use them. And at least one big Cold War Commander game to put all the terrain to use. I'd love to get to the big Cold War Commander game being planned in Sheffield but I fear that will be pushing for one weekend away too many!
With 167 Followers, 60500 visits and an average of 45 visits a day, I'd like to improve the blog. Whether that is from a move to WordPress, more posts, redesign or whatever I'm not sure. I enjoy posting stuff and hope I can maintain both my hobby and the blog at a more productive level in 2012!
Thanks
Andy