I had intended finishing off the pile of Soviet AFVs and APCs that needed basing before I posted the results but inevitably I realised I needed more little bits to add to them to make up 'proper' units (i.e. the BTRs and BMPs for the support squads). So I thought I'd do a quick progress report.
I painted most of these last year and had only got so far as adding the 'sand' to the base. I had done three battalions of T-80s, three of BTR-70s and three of BMP-2s. Two of the T-80 battalions are Scotia but everything else is Heroics and Ros. The T-80 ERA being a particularly fine model.
These are the BMPs still in their 'to be finished' state: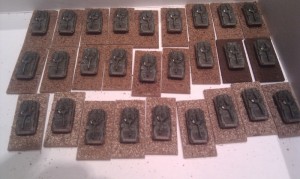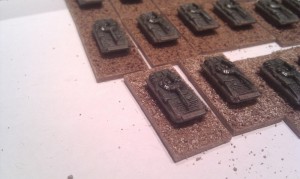 I've completed the three battalions of T-80s. A mix of Scotia and H&R (rear three rows) with two of the BTR battalions in the middle and my recently acquired Dark Ream SF force to the fore! Bar some tufts/clump foliage these are done: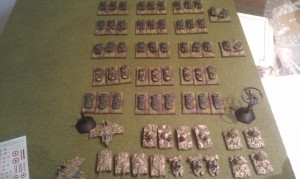 As I said, the H&R T-80 ERA is a really nice crisp model:
I had to add/paint an extra BTR-70 unit along with two models for each unit to carry the support squads: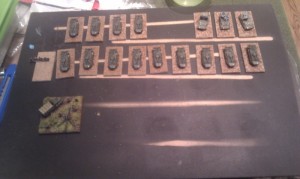 And the command stands are partly done basing:
And finally, I've decided to do all my artillery assets on 40×40 bases so this is the first as a tester: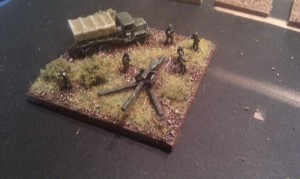 I know in CWC they are off-table but I like doing the bases!
So there we go. I'll be ordering some T-64 ERA to go with these and maybe another lot of the H&R T-80s. Another lot of BMP-2s as well although from recent comments I think I need some BMP-1s as well.
I've also started the engineering and bridging assets. I seem to have two types in the my lead pile: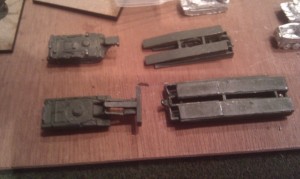 I'm not entirely sure what is what. I think one is H&R and one Skytrex? The top I'm pretty sure is Soviet, the bottom I'm less so.
So there we go. I'm not entirely sure why I did all these. I already have over 10,000pts worth of Soviets for CWC! I think I just wanted to move the date range to late '80s as all the other stuff is T-72/T-62… Still, more Russians is always a good thing!