Now that things seem settled after the move (apart from my likely fruitless dispute with 1and1!) I thought I'd review what is on the workbench.
First up we have the next batch of 15mm for my Dux Romano-Brits. These are a mix of Splintered Light and Outpost with the extra pack I ordered from Splintered Light along with the Saxons will give me my Starter Army. The delivery seems a little delayed which makes me think my long run of avoiding Customs charges is finally at an end…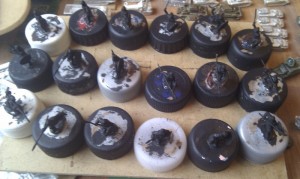 I'd thought of trying a lighter undercoat but don't really have the time or spare figures to experiment. Following my earlier post about basing I have decided to go for 15mm steel disc bases for the bulk of troops and 20mm for skirmishers and the Big Men. Should hopefully have the bases in a couple of weeks and then will be getting some sabots made up by Warbases.
Having just acquired a large number of Russians on top of the pile I was trying to finish off I thought it really made sense to grab the rest of the stuff slugbalancer had on offer! The first batch arrived this week and was unpacked the other night. A varied selection of BTRs and AA and AT assets. And a lot of GAZ-69s!
And a huge pile of BTRs and assorted OT-64s and OT-65s which may see me heading in the direction of some less then first line Warsaw Pact forces!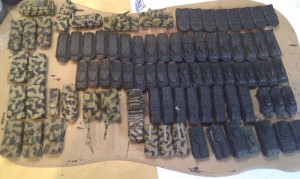 This lot also included the rest of the force to match the BMP3s, BTR-80s and T-80Us I already have. I really like the paint job on these (the camouflage has green not dark brown in it!) and am looking forward to basing these up. As they are later kit than most of what I have and aren't really suitable for any possible Afghan silliness I might have planned, I'm not sure where I'll fit these in to my forces.
As I have a LOT of infantry still to paint this was also a chance to pick up some ready made troops: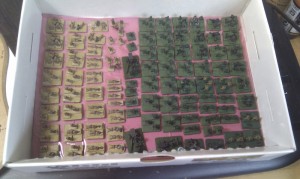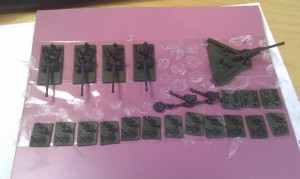 And finally I shall be heading back into my 6mm ImagiNation project…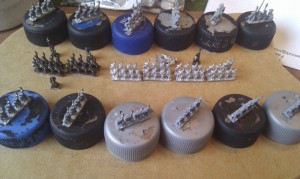 I think I have finally settled on 30×30 bases. Not sure yet on whether steel or MDF…
So there we are. Plenty to be going on with.
Border Reiver Show
Next Saturday, 1st September sees the annual Newcastle show, Border Reiver, moving to a new venue at Gateshead Stadium. Limited details of the show are here. I'm hopeful that the new venue will be more spacious and better lit than the old Arena and that there is a good turn out for what is usually a good local show. I shall be taking a load of unpainted lead and books to unload and hopefully not succumbing to any new madness! If you're in the area please come along.