First Saturday in September brings the annual Newcastle show, Border Reiver. I set off early for this one as I was giving someone a lift and arrived in plenty of time. I've created a gallery for the show here so if you just want to look at pretty pictures jump straight in. If you want a little more info, please read on!
The Venue
This year the show has moved south of the river to Gateshead Stadium. For the last few years it was based at the Newcastle Arena using the foyer area. Although this was a big enough space the layout was sometimes a little awkward with staircases breaking up the space and the lighting was never that good. Fine for normal browsing but hard work when it came to taking any photos. The new venue is the sports hall at Gateshead Stadium. This brings the whole show into one large space with much better lighting. The only caveat being that it is that peculiar sports hall lighting that casts a yellow tinge over all. Much better but harder work getting the colours right in any photos.
There was plenty of space for the traders and demo games. The bring and buy was to the left as you came in and had plenty of room so no scrum to see things. The big downside on the day was that the cafe wasn't open! The organisers had asked for it and were expecting it so very frustrating for them and a little annoying for visitors as the only other options were the vending machines, the nearby ASDA or the burger van parked opposite the Stadium. I was lucky in that to save money I had brought sandwiches! I'm sure this will be resolved next year and the venue should really get a slap and should rue the business lost on the day. Oh…and it was very warm at times in the hall. I'm just glad it wasn't a hot day outside.
Other than that it was a great venue and I hope the show continues there.
The Games
There were a good few demo games on. All were good quality and I think I managed a quick word with most of them. It was good that all I spoke to were friendly and happy to chat. And the games seemed to be 'active' so no dioramas! There were a lot of SF games in evidence. Possibly reflective of the makeup of some of the local clubs and helped by Critical Mass attending the local shows with some very nice 15mm figures. Of the games that stood out for me, the Flames of War game (forget by who) had some lovely terrain:
And the Shot and Shell Gamers 10mm SYW games had some nicely painted Pendraken figures:
I've not played (or been tempted by) Dystopian Wars but I was quite impressed with the models!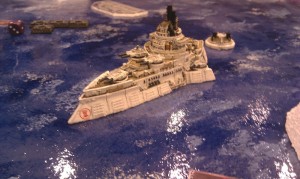 All in all, a nice selection of games. I'll update the gaps in the info as people point things out!
Bring and Buy
My main aim for the show was to clear a little lead and some books. I'd downloaded the requisite form and being a geek at heart I had entered all the info, printed it out and printed labels for all my boxes! Booking in was quick and painless so I left my stock there and hit the show. I was shifting a pile of historical fiction (Allan Mallinson, Christian Cameron) and a few other odds and ends. Only about six of the books went… I'd also decided to offload a HUGE pile of unpainted 15mm AWI. Fourteen packs of Peter Pig and a lot of Freikorps, Essex and Old Glory. The Old Glory went but NONE of the others. There were nearly 80 packs in the box and nothing. Bit disappointed there. I got rid of some 20mm Modern as I finally accepted that my Force on Force dreams were just that. A few packs of 15mm ancients went. I still walked away with £54 but would have liked more! 🙂
So to look at the BUY part, what did I buy? Sod all really! I bought 3 packs of MDF bases. And half a dozen Hero-Clix figures for my kids to play with (two broken already!). And that was it. I don't think I could justify buying any lead as I'm trying to clear stuff. I have enough paint for now and more books than I can ever read. And I'll be at Derby next month so will need cash for that. But most importantly, I don't get paid for two weeks and I feel I should really feed the kids as well!
Conclusion
I enjoyed it. Nice chats with assorted people. Much better venue (despite the yellow light!). Lack of cafe annoying but not the end of the world. A bit warm.
I'm already looking forward to next year.
If you missed the link above, the gallery is here: Border Reiver 2012 Gallery