Over the last two years I have been slowly painting up 28mm RSM SYW figures for my ImagiNation of Altefritzenburg and it's famed fighting force, von Donovan's Savage Swans. These have seen service in the last two Ayton games run by Henry Hyde. The core of the force was the main battalion shown here with grenadiers detached.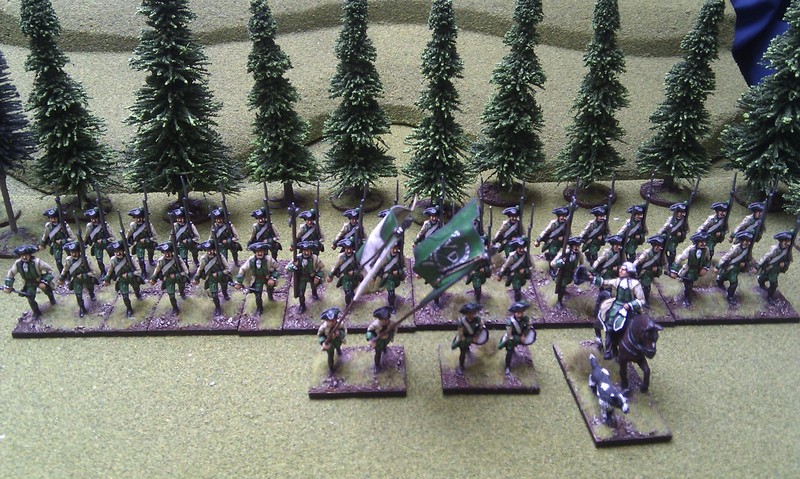 Now I really love the Ayton games but I am a slow painter when it comes to 28mm and I can only really see myself using my 28mm ImagiNation forces for Ayton or related games. I am firmly in the 'paint both sides' and 'do my own thing' camp and getting enough together for a full game myself is never going to happen in my lifetime! So the solution? Recreate my entire ImagiNation forces in 6mm! I then stand a decent chance of painting up enough for a game…maybe…
Although I'm undecided on rules long term I do want to try Maurice so that was my starting point. Basing was an issue though and I looked at several options (see earlier post). The 'convention' for Maurice in 6mm seems to be to use the Polemos 60x30mm basing, two bases to a unit. For column, people just turn the bases sideways. Now, I wasn't really happy with that, and also because I wanted to add some extra figures to each base, the option of using 30x30s (which solved the column 'problem') still didn't look right. So the end result is…. 40x30mm! I really think 4x 40mm stands LOOKS right for a battalion in line. I've also added a command stand (equally 40x30mm) so that when they are all in column I am only 10mm out in the line/column lengths.
So here they are. The Savage Swans in 6mm!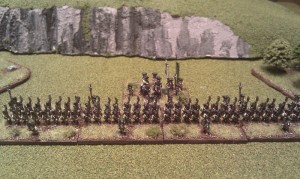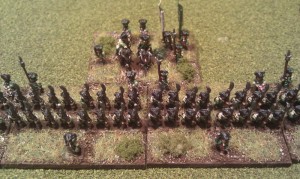 Now, because I'll be using these for Maurice and I still wanted to keep the option of playing other people open, I can remove the grenadier company and still have a unit with the 'standard' 120mm frontage.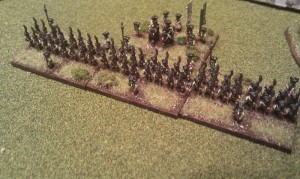 And placing the command in the front when in column gives the same column/line length when using 3 stands t oa unit and only 10mm out when using the lot.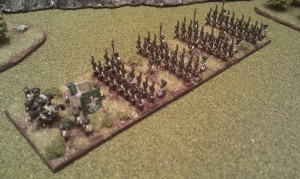 These were fun to paint. All foot figures are Baccus. The mounted officers are Adler. Foot officers are standard bearers with the pole cut down to sword length. And painting the Swan's standards was a bugger in 6mm!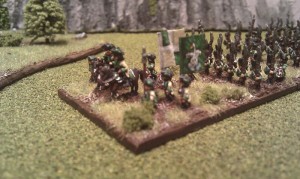 I tried a different technique to pain these. Light grey undercoat, black wash. This REALLY brings out the detail on the figures and I have to admit to being surprised at how much there was that just got lost with a black undercoat.
I have the figures for the Grenzers, Indians and cavalry lined up as well. More to come…