Been a little while since the last post but I've been pottering along with my 6mm ImagiNation project and finally have something to show. The mounted arm of my Savage Swans in 28mm were composed of RSM Austrian Dragoons but fitted with lances.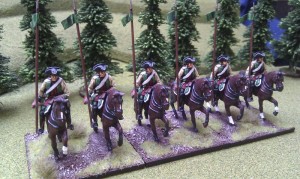 I had only done a single squadron for last years Ayton game but added a second with red edged pennants for this years game. Re-creating these presented a problem as neither Baccus or Adler did a lancer/uhlan in tricorn. Peter at Baccus suggested possible figures for conversion but to be honest I didn't fancy the job! I then emailed Leon at Adler to see if he had any suitable figures. I got a reply. 'Hang on. I'll get back to you'. Couple of weeks passed so I dropped a reminder. 'Still looking. Will get back to you soon'. Couple of days later I got an email. The only suitable figure was the Austrian Dragoon standard bearer.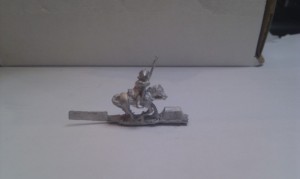 However, the pole was too short for a lance so Leon was going to remove it, re-model the hand to make it drillable to take a lance and how many did I want? Now that is what I call service! I ordered forty as I still wasn't sure what size units/bases I was going to go for. Leon suggested that 0.5mm brass rod would do for the lances and that a twist drill would do to 'hole' the hand. So the figures arrived (it must have took him a while as there was only one to a mould) and after a few weeks of summoning up the courage to tackle the lances I finally made a start. The drilling was fiddly and a few hands didn't quite drill through cleanly. However, they came out OK. I fitted the lance before painting as I wanted a good bond.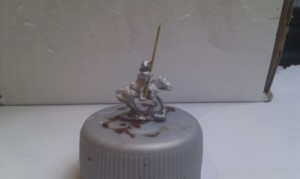 And then it was only a matter of painting them! I decided to stick to the 40x30mm bases, 4 figures to a base, 2 bases to a squadron. And a command base. So here we have Von Donovan's Savage Swan Uhlans!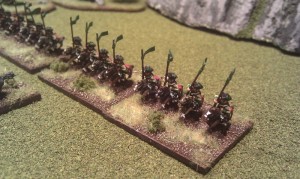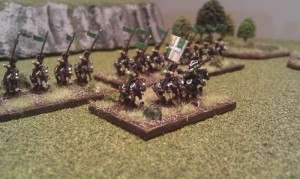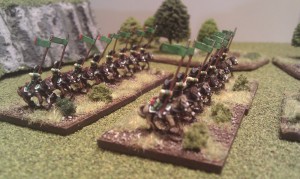 I'm quite please with them.
Some Opposition
To give my main ImagiNation troops some opposition I intended to re-use some 1806 French I have but also to paint up some SYW French. My backstory has a 'French' officer training 'Ottoman' types so it makes sense for me to have a French themed opposition. I had chosen the 'basic' Baccus French with no turnbacks to speed up painting. And to speed things even more I thought I get someone else to do it! I have some Total Battle Miniatures buildings that I was going to sell to Ian Willey, the author of The Blog With No Name and a fellow ASL player. He offered to paint some 6mm figures for me in lieu of cash so I painted up a sample strip and then mailed him enough to do a full unit. These he duly did and mailed back. I'm quite pleased with them and will be getting him to do more. I still needed the mounted officers which arrived this week from Adler and allowed me to finish basing the unit and paint up the standards. So many thanks to Ian and I present the first unit of the yet to be fully 'Imagined' French type opposition!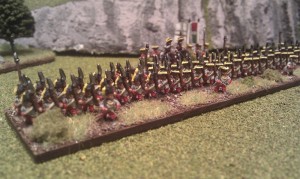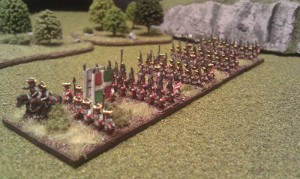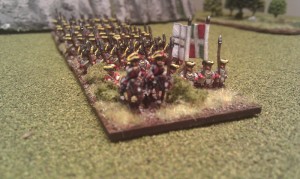 Again, I'm really pleased with Ian's work and how the whole unit has come out.
What next?
I have Grenzers and Indians to do. And some Ottoman types. And the first of the Altefritzenburg regiments, though whether I do them in 28mm or 6mm first is yet to be decided!