Well, the final batch of my Russian micro armour arrived today courtesy of Martin (aka Slug Balancer on TMP). They were, as expected, very well packed and not a single item or barrel was bent never mind damaged! Here's a few pics:
The first lot have a pile of OT-64Cs which will be forming part of a Czech force. And a interesting selection of missiles! Some good possibilities for diorama bases there I think.
Then we have a lot of BMP-1s which will either go Warpac (more likely) or as they have a seperate turret I may look at these as a base for doing BMP-1Ps? Also, ferries, BMDs and assorted odds and ends.
Transport, BMDs and T54s.
ASU-85s, and a few odd companies of armour.
Overall a nice little(?) haul and now I need a little time to plan what to do with it all!
The following shows what assorted Soviet kit I have waiting to be dealt with! You can also see the pile of bags of unpainted kit! Apart from some T-64s that is mostly assorted recce stuff and models to add to HQ stands and specials.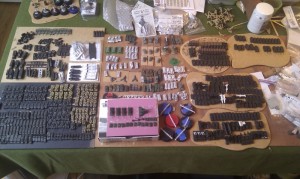 So, what is the plan? To be honest I'm not 100% sure. Having done a lot of T-80s recently and with at least four battalions of T-64s to do I'm thinking of moving my T-72s and T-62s to Warpac forces and then using the bulk of this lot (the older kit and APCs, OTs) to provide the Mech and Motor stuff. Some of the OT models are quite nice. The T-54s may get shipped to the Middle East in '73 though!
There's kit there as well to do airborne.
I really must get round to the NATO stuff soon!