The early May Bank Holiday Weekend saw the fourth gathering in East Ayton for a weekend of wargaming, beer, food and excellent company! This year saw Henry Hyde taking the campaign reigns again and bringing us all back to the little principality of Granprix where it all began at the first Ayton in 2011. After our excursions to Byzarbia and nDunaland we were finally called back to either fight for King Raoul of Grenouisse to protect his ill gotten gains or to liberate little Granprix from his twisted grasp! Grenouisse was supported by the Gateway Alliance, Altefritzenburg, Aytonia, the Margraviate of Hunmanby, the Duchy of Elland and the Margraviate of Cress and faced invasion by Prunkland, Medetia, the Barony of Darien, Borscht and Whyeydia in support of the rebellious Granprixians!
We had two big games on the first day. reflecting the action in the east and west: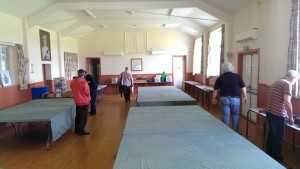 And Day 2 saw Henry masterfully herd us all onto one huge table: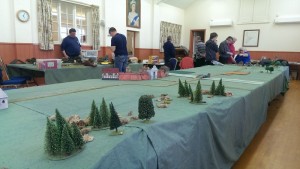 And which we happily filled with lots of toy soldiers!
It was, as ever, a fine fine weekend. Thousands of beautiful troops deployed on massive tables. Great events and much lead blood shed on the field of battle. There will be other accounts of the events no doubt but you can find my own (obviously totally unbiased) version of events here:
And a couple of large galleries here: Day 1 and here: Day 2
Such was the intensity of the fighting on our table that I only took a few photos of the action to the west. And I don't really have a grasp of the narrative of events there other than the slight worry of Ken's hussars hurtling towards our flank (before being sidetracked) and the less then rapid advance of Lord Peeler – must have been some men with pointy sticks holding back is advance! So the pictures for that side are here:
As always , huge thanks go to Peeler for organising the logistics of the event, Henry for the buildup and herding of the wargaming cats at the event itself, and finally to the combatants themselves: Mark Phillips, Richard Frost, Mike Whitaker, Dave McClumpha, Ken McGarry, Paul Bright, Peter Mark-Smith, Simon Tonkiss, Dave Hall and Iain Burt who made the whole event such fun. And not forgetting the two Tims, Hall and Wauby, who's excellent 54mm games provided some lovely eye candy alongside the big game!
There are other reports and galleries scattered around the blogosphere and fora:
Henry has galleries, background and videos here: Henry's Wargaming
Another write up and pics from the evil Medetians on Dave Hall's blog.
And more from Ken on his blog
And there are LOTS more pictures in the Loose Wargames and Gallery section of the Loose Association of Wargamers where we all meet to plan this madness!
I'm already looking forward to next year but this year wouldn't have been possible without my wife. Several days before the event she did her back in and it was touch and go whether she would be able to cope with the kids and dog if I went away. Fortunately things settled enough to risk it and I was allowed to go! She's a good'un!
A