I feel a little bad posting an update for this when I haven't even uploaded the photos from the Partizan game two weeks ago but I've struggled to get any decent photos off my phone and generally life and work have been busy. However, the thing of note that relates to this post is that I bought a pack of Conquest Games Norman Infantry! These are to be used for the Lion Rampant games planned for Ayton 2017 (yes, 2017!) and I intend using them for a Norman/First Crusade type force. Those who know me will be surprised as I have often been dismissive of plastics. Nothing to do with the quality of the sculpts, the look or anything. Plastics have been a great boon to the hobby. I just don't like the 'heft' of them. I like to feel the weight of lead in my hand both when using them and when painting them! However, as this Lion Rampant project is small scale and probably a one off it made sense to use a pack of each (foot and knights) to form the core of my force. But I digress, the main reason for attending Durham being the need to purchase a pack of Norman Knights! Lawrence was nice enough to off me a lift and we got in nice and early at 9.45.
Durham is a small, local show organised by Durham Wargames Group. I've been going for years and really like it. There aren't many games on, there aren't many traders compared to the bigger local shows but there is a Bring and Buy and it is always a friendly show. And as I like to spend most of my shows nattering to people this is ideal. And I like to support the traders and clubs involved.
There were five demo games on, four in the main rooms and one next to the Bring and Buy. The latter was a nicely presented Zulu Civil War game and although I chatted with the guys there I failed to take note of the Club name! [EDIT: which was Grimsby Wargames Society. Thanks for Richard (Herkybird) for the info. He'll be posting his report and lots more pics on his blog later]
Over in the right hand room as you enter the show was a rather nice C18th game by Andy of Old Glory and others: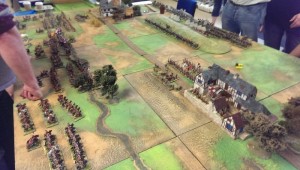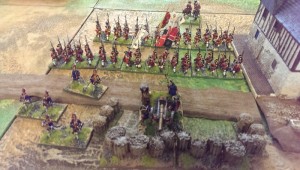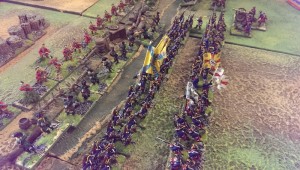 The other room saw a large (literally!) Waterloo themed game from Durham Wargames Group with a 54mm Attack on La Haye Saint.
Pendraken where there and also demo'ing their new Warband Fantasy Rules. The demo always seemed quite busy.
And finally Redcar Iron Beards had some WW2 action:
I managed to get the various bits I needed. One box of Norman Knights, and some Perry 1st Crusade crossbowmen, some armed pilgrims (which will do for my bidowers) and a Hospitaller Command pack which will sort me for my 'leader' and hopefully allow me to have an extra mounted unit. Quite pleased to get what I need for Lion Rampant. Now I need to paint them…
I also managed a nice chat with Dave Jarvis where we reminisced over the Partizan game and had a nice chat about painting techniques. Lawrence was leaving early so at that point I had to depart. But having got all I wanted and had a few nice chats it was a good little show for me. The Bring and Buy seemed quite busy (there were a lot of books as well) but I managed to resist!
Thanks again to the Durham Wargames Group for a well organised little show.