Well, as ever, it has been a while! Since the last post I've been busy at work (and life) and not got as much done as I'd have liked. Beginning of May saw the fifth (yes, fifth!) Ayton gathering and I have a load of photos still to upload from what was, as ever, a great weekend. I managed to paint up one more unit of Spencer Smith FPW types to to add to my forces and have decided to re-base everything using sabots and aim to use them with Sharp Practice. I don't really want to get into large units/games for the C19th so keeping everything at the 'skirmish' level works well for putting together two sides with what I already have.
However, to this post… this Sunday is Partizan in Newark and I will be taking part in two large demo games giving an C18th take on the battles of Ligny and Quatre Bras and organised by members of the A Military Gentleman forum. The games will involve such names in the hobby as Charles S Grant, Phil Olley, John Ray and even Jim Purky has travelled across the Atlantic for the game! All told, over twenty people are involved and a LOT of figures! My contribution is to be 5 battalions of infantry and 6 squadrons of cavalry. And a gun. Now I have the figures to do this (we are using smaller units rather than the BIG old School sizes) but I wanted to use this as a driver to get some more stuff painted. I had planned a 24 figure cavalry unit and a 28 figure infantry but after the rush to get stuff painted for Ayton, and almost two weeks lost to training away for work things just weren't coming together. Having resigned myself to just using existing figures I realised that with the last week being half term, and being off, I might have the time to paint at least something. So I set about painting a cavalry unit.
A while back I bought all the RSM figures and horses to do a 24 figure cuirassier unit with attached officers etc. I was going to use a couple of Minden troopers with carbines removed for squadron officers and had tried a few of the smaller Minden horses to try and match the RSM (with thanks to Jim Purky for help in sorting those). However, following talk of the Foremost range of horses (from Hinchliffe) over on the AMG forum I though I'd try an unit with those. After getting sample pictures of the standing/walking horses I put an order in (last year!) for a mix of each type. What I thought I was getting was a mix of these horses: FH5, FH12 and FH13
When they arrived the FH5 was a different model: stockier and much nicer. The big problem came in fitting the figures to them. Quite a lot of filing was needed and the FH12 and FH13 horses were very thin so the riders did not sit well. You can see each type here and the issue with the riders: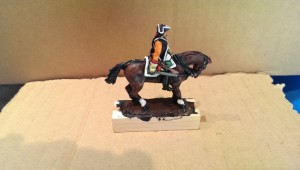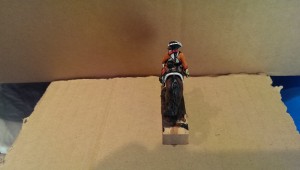 The last picture shows the 'FH5' which is a much better fit. I wanted the variety having read an article by Stokes Schwartz about giving units a bit of 'movement' but having done one squadron like this I might just do the other with the better horse. Here they are as is:
The officer is again RSM on the Foremost rearing horse FH3 which is a lovely model and in the same sculpting style as the 'FH5' I had.

The FH5 I was sent doesn't seem to match the picture on the site so I'll have to be careful when ordering. I'm quite pleased to have finished the unit but feel it was a little rushed. These represent the First Altefritzenburg Kuirassiers.
I needed 36 cavalry for the Partizan game so finally decided to re-base my Legion lancers from 2 figures on a 50mm base to 3 figures on a 60mm. It was a nightmare getting them off the MDF and I nearly had a disaster with bent legs!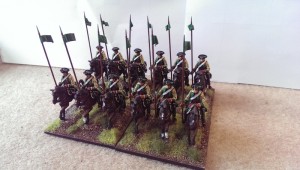 So, a productive few days and glad I made the effort. And REALLY looking forward to the game on Sunday!