I trust everyone has had a most excellent Christmas and that Santa deposited a suitable selection of toys under your tree. I did pretty well. My wife is usually given a list of my 'wants' and she usually does pretty well! I'm also involved in a Secret Santa but my toys from that are still in the post so I hope Monday will see that arrive! Despite some forward planning Christmas Eve again saw us up until 3am wrapping presents so we started Christmas Day a little tired… However the below shows my happy collection of pressies.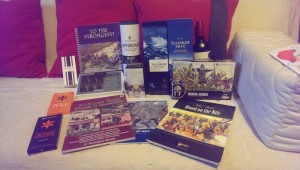 The three bottles of malt have now increased to four (though at this moment I'm doing my best to empty one!) with the addition of a bottle of Old Pulteney. The Laphroaig Select proving rather nice. The usual addition of smelly stuff and choccies is always good but the wargame haul was:
To The Strongest ancient rules – we 'may' use these for a Punic War game in 2016
Conquest Games Medieval Archers – more additions to my Lion Rampant forces.
Blood on the Nile from Warlord Games – for when my 10mm Sudan project finally takes off….
Honours of War – interesting looking SYW rules (including a Fred the Great figure)
BORDER RAID: PILLAGE IN PROSCRASTOR. A MINI CAMPAIGN WITH A DIFFERENCE by Charles S Grant – I really like these books and look forward to perusing this one.
I was supposed to the get the latest Wargames Annual as well but it looks like I will be ordering that for myself! All in all rather pleased with that. Having taken delivery of some Newline Designs 20mm Prussian Napoleonics and with Dragon Rampant on the way it has been a good Christmas. I may be tempted by some fantasy bits for DR from Black Tree Design. I have 24 hours to decide on that with the current sale…
I shall be making some plans for 2016 over the next few days and maybe a review of the year. I may even try going Wargames Neutral next year again!
Enjoy the rest of the holidays!
A