Well, I had great hopes for posting a painting update as my first 2016 update but it seems not. Life…
I have however picked up a couple of things for planned projects and have a few more things lined up. First arrivals have been Besieged: The Epic Battle for Cholm from Leaping Horseman Books.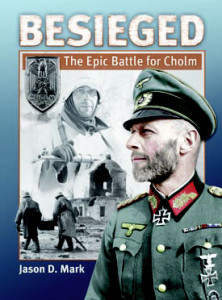 I have several books from this publisher/author and they are excellent. Not the most narrative of reads but full of excellent details and pictures. I have the Le Franc Tireur Cholm module for ASL and I hope one day to play it! It does however give me ideas for 6mm Eastern front stuff which I will do my best to resist!
Having played an excellent few games of Lion Rampant in Newark last year I really need to start painting the Norman stuff I have. I have supplemented that with some Gripping Beast Arabs so I can go more First Crusade. And also maintain a link to my C18th Imagination and their Ottoman ties! Needless to say the recent release of Dragon Rampant as given me more ideas….
I was just going to use what I have (still to paint…) and add a dragon! But I figured a dragon should really be accompanied by some Orcs! I'd been watching some Games Workshop stuff on Ebay but then Lawrence (from the Tyneside and Whitley Bay Clubs) offered me some Mordor Orcs and some Minas Tirith chaps. A good start! If I can paint them! I'm hoping to get a try out of Dragon Rampant at the Whitley Bay Club this coming Tuesday.
I've also picked up a copy of To the Strongest from Simon Miller.
We have been looking at options for rules for the planned Punic War game later this year and these are looking promising. We need something quick and fun. If I can get the attic cleared I hope to have a quick test game.
To offset this lot I've sold some bits of ASL stuff. Spares and duplicates that I'm unlikely to play – which to be honest could apply to most of it!
So, a little update. Not much progress but always good to get some new toys! If I get a game on Tuesday that will be the next post here.