First a little background. I've wanted to set up a game at home for quite a long time but getting my game top clear has proved a problem. As well as deciding WHAT to play. Usually the delay in the latter results in the former getting cluttered again and then months pass by. Again… This time however I cleared the top, laid out my Mat-o-War and after settling on a 15mm game I dug out the bits of scenery I have and laid them out… I then decided I was missing essential stuff so bought more roads, hills and based up trees I had (see my last post) . Although I had originally planned to field my 15mm AWI forces the enjoyable game of Fire and Fury at the Whitley Bay club on Tuesday settled me on rolling out my 15mm ACW armies.
These armies have travelled a little. MANY moons ago I went up to the Claymore Show with the Tyneside Wargames Club and on the Bring and Buy there was a largish 15mm Minifigs Union army. This was 2nd Generation Minifigs. Plainly but neatly painted and based for Fire and Fury. I wish the CSA army had been there as well! It was however entirely infantry and artillery. I assume someone else grabbed the cavalry. There was unpainted stuff as well and I planned to paint this as CSA. Inevitably it never happened as I had just met my now wife and was slightly distracted! I eventually gave up and sold the army for £50 to my mate Billy in Birmingham. Roll forward a good few years and I fancied trying ACW again as Sam Mustafa's Longstreet had just come out. I asked to buy it back. In the meantime Billy has added a decent CSA force to it and a copy of Fire and Fury rules. He generously sold me the lot for £50 on the understanding that if I ever decide to part with it again I had first to offer it all to him. For £50! Which was fair!
As ever, nothing much happened but as part of the Analogue Painting Challenge in 2014 I decided to paint some of the cavalry as the Union will still missing these. These came out quite well but I never did any more!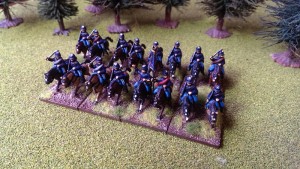 And a couple of month ago Essex Boy sold me his few painted Confederate troops which I immediately re-based for Fire and Fury.
And so we come to today. As I'm still fairly new to the rules I wanted a simple game and rather than try and pick a 'real' scenario a little Googling led me to an old Fire and Fury page which had pre-generated armies for use in competitions. I just chose two corps that had no cavalry and rolled the random events they suggested. This gave me two forces with a few Exceptional commanders.
So I plonked the lot on either side of the table with little thought as to who was facing who.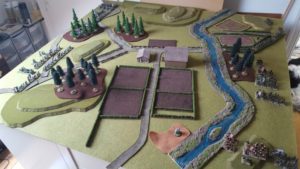 The Union are on the right and will be crossing the stream at the two fording points and with a bit more effort at the point near the righthand woods. The CSA are deployed to the left. I decided to make the upper levels of the hills rough terrain which I thought would offset any delays with the Union crossing the water.
We shall see what happened in the next post!