What a long and tedious job re-basing is… I can't base the last few infantry stands as the new bases I have are ever so slightly too big. This is being corrected. But I have finally got everything off old bases and onto new. And the ballast/PVA mix applied.
I've gone for three crew for the guns as I think two just looks a bit light…
I say I've re-based everything but I exclude the Zouaves. I have just traded for 26 more in kepi and a couple in turban. I need to get an idea on unit strengths in various battles to see how many I may actually need. Either way I will likely strip both lots and re-base them.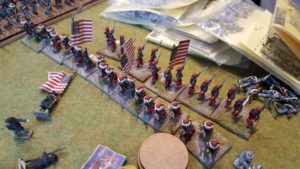 But I did make an effort to get a couple of units actually finished!
And at the front you can make out some sample strips of the 4Ground MDF fencing. I decided that leaving them MDF/Brown would just be too well, brown, given my dark basing. So as I have lots of cheap grey acrylic paint I sloshed that on and drybrushed with a lighter mix.
I think they look OK. I was concerned that they are very light and would move around but the surface of my Mat-o-War seems to snag them and hold them in place. I do wish they would do the fencing in longer sections though!
And to finish off I thought I'd lay out the CSA troops I have. These are a total mix of all makes and painting styles but the basing brings them all together I think. And I need to re-base the officers.
So good progress being made and hopefully get the rest done by the weekend. Oh…and I need to paint ten limbers as well…
A