The not going very well EB vs CB Painting Challenge has hit another way point and needless to say I have still failed to paint the 28mm Altefritzeburgers  I had planned. Iain however has finished another excellent Spencer Smith unit. See the details on his blog: http://general-e-pickled.co.uk/gateway-alliance/james-longs-regiment-is-seconded-to-the-gateway/ but here are the chaps in their glory!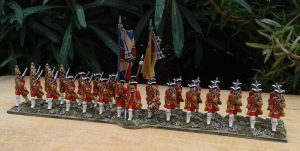 Iain updates his new blog even less frequently than I do mine but it is worth watching for some lovely troops and he will eventually get more content up there.
I've come to the conclusion that my head is just not in 28mm mode and having recently played a few Fire and Fury games I'm firmly of the opinion I should crack on with the re-basing, paint a few 15mm and finish off the project! So that is what I am doing for now…
To that end I have finished the three limbers I started and done the bases on three guns and added a divisional/corps commander…
The limber riders are done in the dark blue I'm using for all my new stuff. I've tried finding a blue to match what is there but had no luck finding or mixing one I'm happy with. I've realised the slightly off colours of the old Minifigs is down to the varnish used yellowing. So I'm never going to be able to match them really…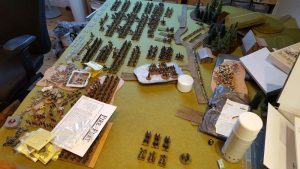 So, as you can see, I am getting there. I need to re-base the CSA officers and think what I need to add to them. And paint more Union cavalry!
Onwards and upwards!