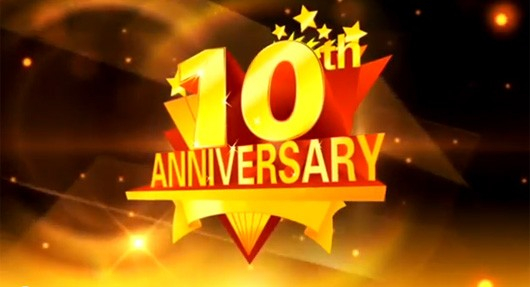 In all the frenzy of getting ready for the To The Strongest game in Newark I totally missed that 10th November was the 10th Anniversary of my entry into the blogging world! Back then my blog (ASL Stuff and Nonsense) was devoted to ASL (Advanced Squad Leader) – still my favourite boardgame system even if I don't get chance to play anymore. I chronicled a few games on VASL and tournaments I attended and storage systems etc. Unfortunately, the arrival of small children curtailed my game time, as did work. After a bit of a lull I moved back into figure gaming and in September 2008 started a new blog (AWI Stuff and Nonsense) to record my 15mm AWI project. This went quite well and hosted on Blogger I gradually accumulated over 200 followers which was rather nice.
This kept me going quite well until Feb 2012. I'd been blogging about various projects (Cold War, Punic War, scenery, Ayton, all sorts) but at the start of 2012 I decide to move away from Blogger and host my own WordPress site – which is what you see now. I spent quite a bit of time consolidating both blogs and importing the content from them into one place. Some of the ASL images never made it as they were hosted remotely on my old ISP provider and I lost them when I changed but I got everything across and Another Slight Diversion was born.
Google decided to drop the Google Connect functionality for non-Blogger blogs so I lost all my followers so I then set up the Facebook Another Slight Diversion page to provide another way of promoting the blog and allowing people to 'follow' it. Is it really important for a personal blog? I like the feedback. I like to see what people think of my different projects. And nowadays most of my wargaming interaction is either via the LAW forum or Facebook. I don't post as often as I used to (I don't have the time…) and most of my gaming seems now to be weekends away (always good fun) and the odd solo game. I try to get to my local clubs but family life tends to restrict that.
Will there be another ten years? I bloody hope so! 🙂 I have lots of ongoing projects (don't we all!) and no shortage of lead, and a great group of gaming friends scattered round the country. I'm also (slowly) trying to FINISH projects so I have enough to put on games – both sides and scenery. If we don't play with the stuff occasionally then what is the point? And I'm trying to develop a more traditional website to catalogue my projects where the blog will just provide a front end to that. It's started but I want a lot more content on before I go proper public with it. Hopefully before the next ten years are up!
So, thanks for following, for commenting and for making it all worthwhile.
Andy