Last night I finally freed up some time to play some proper X-Wing with my lad, Zach. We still stuck to the Core Set and basic ships just to get the basics down. Again, I took the lone x-wing against the two TIEs. This time we remembered to put the shields on the TIEs! Just using the standard pilots.
First couple of moves saw us rush headlong and gave me the chance to pop at the slower pilot.
There then followed a bit of dog-fighting where I caught the slow pilot again but the better guy was closing in and stripping off my shields.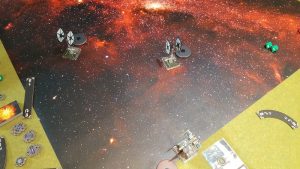 However, a couple Critical Hits on my main target finally let me take him out.
And left me facing the tough guy!
This got very close in and dirty with some quite good manoeuvring from Zach!
As we prepared for yet another run past we were both down to one Hull left. I evaded his one hit (using my focus) and had three attacks on him…
Which didn't go as planned!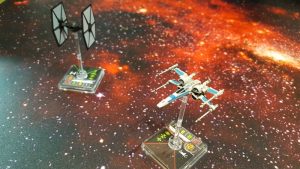 Another couple of turns and we were still battling! A final run. He missed. I got the hit I needed!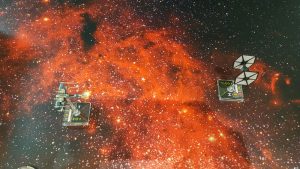 Good fun and the lad did well. More importantly he didn't strop when I beat him and wants to play again! 🙂
Couple of things came up:
Assume that if your stress goes after your green manoeuvre you are then free to do an Action?
And the vinyl mat – the ships slide very easily on it. Is there a solution to this? Does someone do the bases with a non-slip bottom to them? It's not a big problem if careful but we knocked the mat once or twice and the ships slid around!
All in all, good fun and looking forward to the next game in which Zach is desperate to try some new ships! Of which we have a few! Richard (aka Herkybird) at the Tyneside Club very generously gave us a selection of his ships that were surplus to his requirements so we have the following to choose from:
1 Tie Defender
1 Z-95 Headhunter
1 Starviper
1 E-Wing
1 M3-A Interceptor
1 Tie Phantom
1 VT-49 Decimator
1 YT-2400 Freighter
1 IG-2000
Thanks again, Richard! Richard has a set of solo mechanisms for playing the game and I'm tempted to give those ago with the lad so we can plan the actions together. The rules are available here:
X-Wing Solo Rules
.
I actually played a big 15mm ACW Fire and Fury game at the club on Saturday so the write up for that is coming soon!