Many moons ago (2011!!) I decided to re-use some random 1/300 SF models to recreate the Savage Swans (my ImagiNation force which started in the C18th) as the military arm of VonDon Corporation (von Donovan being the family name of the original commander of the Swans) and relocate them to the not too distant future! http://blog.belisarius.org.uk/2011/09/fubar-vondon-corp-complete.html
Although I re-painted a Red Dwarf Starbug as a basic transport vessel I've never added any combat craft… until now…
Although I've been focused on X-Wing the last week I've also prepped a few things to paint for a little LAW painting challenge and for Ayton. And as I've been prepping stuff for use in Horizon Wars I thought I'd paint a few ships that I got off my mate Slugbalancer a few years ago! These are from an old Star War range that I've not really seen anywhere else but found this pic online:
So as I wanted these for VonDon Corp. they needed to be in the standard buff and green colour scheme. I'd forgotten I did the other stuff green and then added the buff but the other way round seems to work OK as well. So here we have the VDC Combat Air Support.
One Ganymede Fighter and two Burt Assault Support Ships (know by the troops as the Burt Big Ass).
Quite pleased with them really. Wasn't sure how to do the canopy glass but it doesn't look too bad painted. The planned X-Wing tonight didn't happen. Party as the lad was a total nightmare this morning so we are each in each others bad books, and partly he had a friend over to play.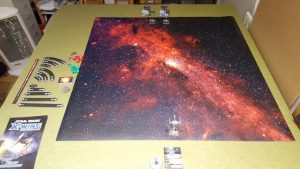 May have to wait until the weekend now…
A