And so we come to Day 2. The big game! Western Crusaders and Eastern types assaulting a castle/village/church complex. Six players on our side versus four on the other, with a couple of guns mounted in the castle facing either way. Each player has 42 points to split into two retinues. However, each turn you could only activate one of them. On the first day the activation sequence with four players was controlled by cards. This time all one side went, but as said, only one of your retinues per turn. Unfortunately, Richie was unable to attend Day 2 so myself and Dave Hall took it turns controlling his force depending on how busy we were with our own.
I split my force into a small retinue (two yeoman, two bidowers and one lot of mounted) which along with all Richie's force were facing Bob defending the village. My main retinue (sergeants, bows etc.) joined Dave in attacking Ken and then the castle. Despite the losses on Day 1 I still chose a couple of Boasts! I went for my arrows are deadlier than my spears, and issuing a challenge. As my leader had died the day before I got to roll for two new ones and got a Great Leader and a Lionheart! So I reckoned a duel would be in order…
Let battle commence!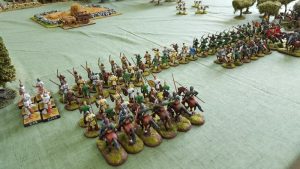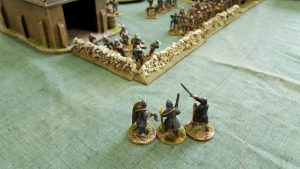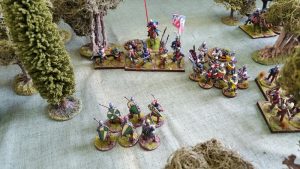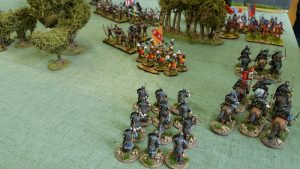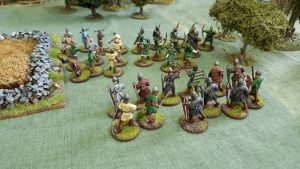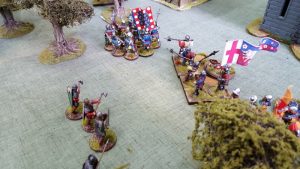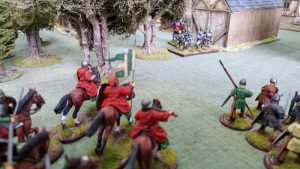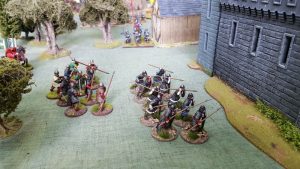 And at that point Gary called it a day! Although we had not taken the castle we had killed enough of the enemy to force a surrender. And for once my dice had been good! I had wiped out at least five units, killed a Lord and achieved my two boasts! A great turnaround after the dire result of Day 1! But the dice had served me well and fortunately for me Bob suffered badly with his which gave me and Dave freedom to pile into Ken! All in all a good game. Great fun and nice to win!
Another post later/tomorrow with some more pics from the weekend and thoughts in the games.
There are more pictures in the Day 2 Gallery.