I've been struggling to get back into painting etc. since the break imposed by the school holidays. Border Reiver, although am enjoyable day, didn't provide me with the boost I needed so the painting brush has been idle…
However, the inestimable Essex Boy has recently been sorting through an acquired lead pile and ID'd a number of Minifigs 2nd Gen 15mm ACW figures. Some Union, some CSA, infantry and cavalry: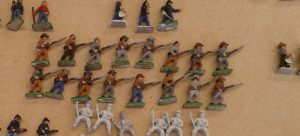 The paintjob was quite basic and as I'd implied that I was going to strip them EB just dropped them in bags to post. When they arrived quite a few were chipped but the CSA stuff actually still looked mostly OK. The Union stuff looked a little rougher and I wasn't keen on the blue used… So I thought I'd touch up the CSA stuff. Most just needed a highlight adding to the chipped surfaces and I then applied a thinned GW Agrax Earthshade and based them up. Ten new stands.
It was nice to complete something but I've no idea what to do next. I quite liked the cavalry that EB sent as well:
These look to be Frontier Miniatures but are unfortunately lacking horses and as Frontier seem to have disappeared I think these figures will never get used. So…still no idea what to so next!