After completing the big batch of Saxon Thegns I wanted to play with the spare bits of plastic for some characters and also finish the Saxon warlord figure. So…
Thirty years ago the small coastal village of Mynyddwych was raided by Vikings. It was unexpected. There had not been raids in the lifetime of the village elder. But it was brutal. The men fought valiantly but were no match for the veteran warriors and all were put to the sword. The women and children were rounded up and taken away to be sold into slavery. All except Brona, wife of Fridolph. She took up her dead husbands sword and fought until subdued. She was then assaulted and left for dead. When the local lord, Aethelbricht the Falconer, arrived the raiders were long gone. But Brona still lived. And nine months later gave birth to a sturdy blonde haired boy. And died in the process.
Aethelbricht , took the boy into his household and named him Grimmwulf. As he grew he learnt the martial skills to serve his lord. He also learnt of his origins, the raid and the death of his father. And he vowed to track down the raiders and exact vengeance! For ten years he travelled to the Viking lands, through the lands of the Rus and finally to the seat of the Roman Empire in the East. He learnt many new skills and now fought with two swords! As he continued to track down the raiders he would often free captives, intended for the slave markets. Among those were two Arab warriors. For their freedom they swore loyalty to Grimmwulf and so he was joined on his quest by Abdul Khaliq el-Rahimi and Kameel al-Hameed.
Abdul Khaliq el-Rahimi was a fine warrior. Never afraid to face any number of opponents.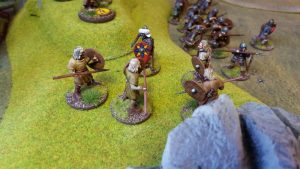 Kameel al-Hameed, the younger man, still had much to learn but could be relied upon in battle.
But both swore to protect Grummwulf with their lives. Grimmwulf, a sword in either hand and his shield strapped to his back was a deadly killer.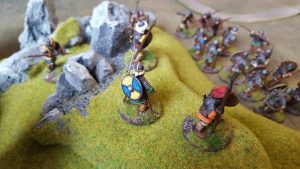 His quest still unfinished, Grimmwulf returned to his home. His lord had summoned him. All was not well in the kingdom. Aethelbricht the Falconer was still a warrior to be reckoned with and still lead his household on behalf of the king.
So there we have some characters! And I still need a game!
Next up are the rest of the Saxons for SAGA. Having a nightmare with the Warlord Housecarls. Tried priming on with my usual Vallejo Surface Primer and the stuff just wouldn't stick! So I washed the rest on soap water and tried again. Same problem. I'm having to go back over them three times or more to cover up the bits where the primer has just slid off the figure leaving gaps! What a pain!! Never had a problem before priming metal figures.
Onwards!