Do I have enough Russian yet? To be honest, yes. But that doesn't stop me getting more! A few posts on TMP about my recent updates led to the idea of getting of getting a few T-64BVs. T-64s of any kind are lacking in my current forces. I'd ordered a few of the Heroics and Ros model which is rather nice, then I was offered some Scotia by one slugbalancer on TMP. Who with evil intent also sent me a list of other models he was looking to part with. So I ended up getting a few more! 🙂
| | |
| --- | --- |
| POL trailer | 2 |
| URAL 375 Tanker | 1 |
| MDK 2M rotary excavator | 2 |
| BAV | 5 |
| Bridge – MT-55 | 2 |
| GSP | 2 |
| GSP | 2 |
| MT-55 | 2 |
| MT-55 with bridge | 2 |
| PMP deployed | 1 |
| PMP Lorries – centre sections | 2 |
| PMP Lorries – ramp sections | 2 |
| TMM bridges | 4 |
| TMM bridging lorries | 4 |
| GAZ 66b Airportable | 4 |
| T-55 with dozer | 4 |
| T-55 with KMT | 4 |
| T-62M | 14 |
| T-80 | 11 |
| T-64BV | 21 |
| BMP-3 | 10 |
| BTR-80 command | 1 |
| BTR-80A | 10 |
| T-80U | 10 |
Here's the main batch of AFVs: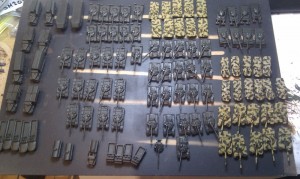 I have to admit I am particularly impressed with the Scotia T-64BV. I'd seen a pic on the 6mm Wargaming site and the casting looked a little rough but these look to be early castings when the mould was maybe better? Either way, very neat!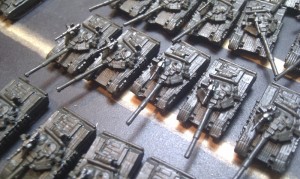 At the last minute I caved in and added some BMP-3s, BTR-80s and T-80Us to my purchase. This does push the time frame for my Russians a little later but I'm glad I got those. Nice little models with a nice camo scheme. May use them for an elite little strike force!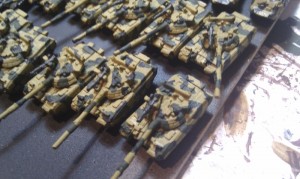 One of the plans for my forces is to add to the support/engineering elements and this was a chance to get more bridging/ferry equipment: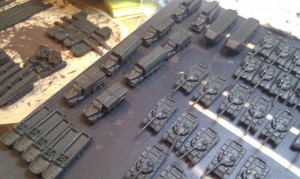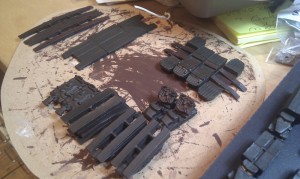 With what I already have this should give me plenty! I may try and sort these over the next week as Skytrex still have a 20% off sale so it would make sense to buy any extras from them now.
Apart from the late kit they are all painted in a nice dark green. I think I'll be able to get away without adding a wash and just a heavy dry brush with my usual Russian Green followed by lighter coats and highlights. The full camo kit will maybe get a thin sepia wash and a pale sand highlight.
I have to say that these arrived VERY well packaged. The turrets on most were loose and had been packaged separately to protect the barrels and MGs. This worked VERY well and of the whole package I only had one damaged barrel. Which was one of the attached ones.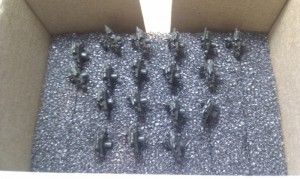 I have to admit, I am really pleased with this lot and look forward to basing them up and adding them to my forces!