Back in October last year a fine group of gentlemen last seen fighting before the Walls of Tel-i-Tubi in Byzarbia took ship to the southern parts of the dark continent in search of diamonds! This was a continuation of the ImagiNation game started at Ayton 2012, and continued with my Byzarbian Interlude at Christmas that year. Paul Bright then came up with the plan for a venture south which resulted in us venturing north to his quite excellent home just outside Aberfeldy.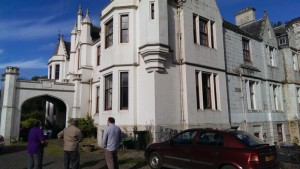 This was a a most excellent venue for a game and Paul did us proud with an excellent table and scenario.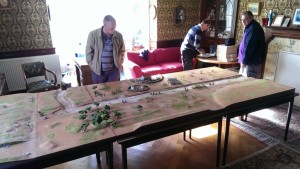 The various accounts of the game by those concerned appeared in Miniature Wargames with Battlegames Issue 368. Because of that I had only posted a few pics on the old WD3 forum and had not uploaded the mass of photos I took. Now that suitable time has elapsed I thought it time to correct that. My writeup in MWBG was, as usual, done from the viewpoint of Private Rüdiger Lamm of von Donovan's Savage Swans. This now forms part 7 of the Journal and I have uploaded all of the photographs from the day to the Scotland 2013 gallery. There are no notes to the photos so you will have to rely on the totally unbiased account of Private Lamm and the scurrilous propaganda of the other participants that appeared in MWBG to follow the course of the action. The main thing is to see the excellent table and troops on display. It was an excellent weekend in fine company and I hope we can do it again sometime.