Where does the time go…
It's been a rather busy month since Partizan and my birthday. Family gatherings, holiday in Cornwall, my lad's birthday and finally completing the clearance and sale of my Aunt's house in Shrewsbury. Needless to say the hobby has gone on the backburner. The great EB v CB painting challenge is looking decidedly like failing at the first attempt (for me anyway, Iain seems to be cracking on with his!) and I'm yet again finding it hard to get motivated to ascend the stairs to the attic and pick up a brush…
The holiday in Cornwall was great as usual. We actually managed a trip out to Pendennis Castle in Falmouth which is well worth a visit. Some good exhibits and re-creations and plenty of cannon to look at!
They even let my lad have a go with the proper replica swords in the shop!
And on the way home from Shrewsbury my wife and I stopped off at Mount Grace Priory. This is where we really met many years ago…
I also seem to have picked up  few more followers to the Facebook page for the blog which is nice and partly prompting this little update! So, lack of time has meant I've only just finished reading the last Miniature Wargames with Battlegames mag.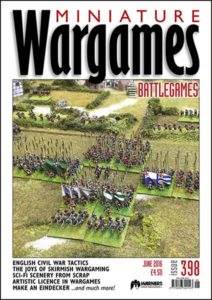 The next issue is due soon and has the start of a write-up of the Ayton weekend. However, the last issue had a long and interesting article on ECW wargaming by Andy Copestake. Now I'm not really a huge fan of his articles as I think he can be rather opinionated and although I often agree with a lot of what he says I don't always agree with the way he says it… But this article was excellent. Obviously closely tied in with Henry's new ECW project it gave a good overview of the period and some of the rules and although it's a period that has never really grabbed me it made me stop and think… 🙂 I have managed to resist (a new period would be madness!) but it's definitely worth a read.
So, hopefully I can get the painting moving again soon but for various reasons the next six months are going to be 'interesting' so we shall have to see!